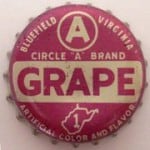 We've been following up on a fellow named Joseph T. Lee III on Facebook and his web site TazewellOrange.com. You have to say, Joseph really has Soda Bottles covered in his region.
From Tazewell Orange Home Page: Soda Bottlers Of Southwest Virginia
 and Northeast Tennessee. Tazewell-Orange.com is my contribution to the preservation of the local history of the Southwest Virginia and Tri-Cities area by researching on a particular mostly overlooked industry that affects our lives every day. That industry is the soda bottling industry which I was surprised to find was quite prevalent in the Southwest Virginia area, though as a whole it was nowhere near the amount of bottlers in the largest cities at the time, these local pioneers in the industry gave it one heck of a good try. Most of these companies wouldn't survive into the present day; however, some of them are still in the soda business either as bottlers or as distribution centers.
From Joe: I collect soda bottles, locals mostly, and also collect information on the bottlers that produced these drinks. Why? Is mild insanity out of the question for reasons? I have a connection to the areas covered on my website, and have a nostalgic connection to soda specifically through consumption, which is why beer, milk, medicine, and whiskey bottles interest me less. The website if you are interested, is Tazewell Orange.com. I forgot to add that my area is the the Tri-Cities area of Tennessee, Southwest Virginia, and Mercer County West Virginia.
Joe sent us a few pictures to post…
The embossed bottles are self explanatory. The picture starting with Was-Cott the first four bottles are from Tazewell, Virginia, the Pocahontas Beverages is from Falls Mills, Virginia, and the Lonesome Pine is from Vansant, Virginia. The picture starting with the Sun Flower Beverages starts with the Sun Flower itself being from Marion, Virginia, the next three are all local brands from Kingsport, Tennseee, and the green Dr. Enuf is from Johnson City, Tennessee, while the amber paper label is from Pittsburgh, PA. Just in case you were wondering.