Manchester Banquet Talk Announced
Education and Sharing are the Keys to Great Collecting!
by Mark Vuono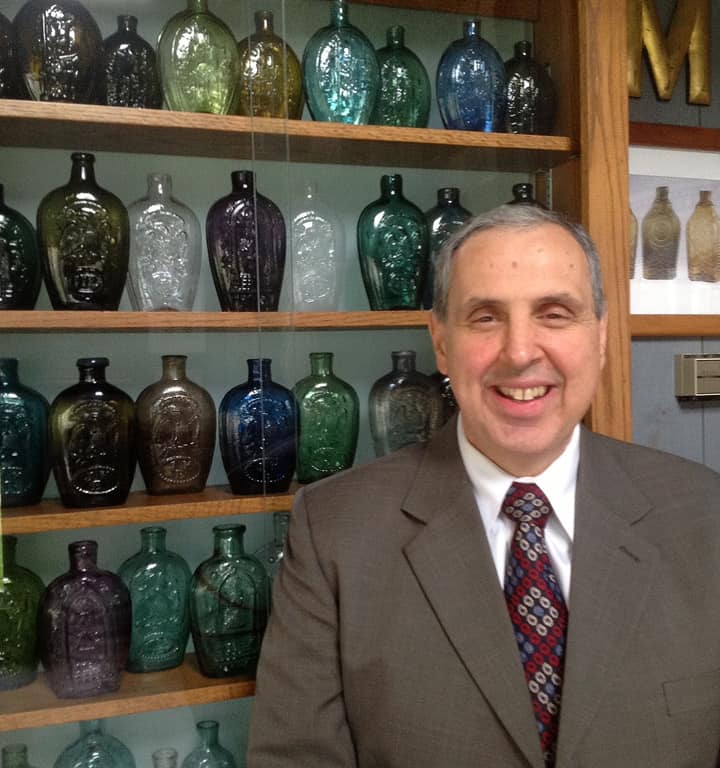 Mark Vuono was born and raised in Stamford, Connecticut where he still resides with his lovely and gracious wife Annie. They have two sons, Andrew and David. Mark was subjected to bottle collecting at the early age of nine as his father was the legendary pioneer flask collector Charles Vuono. Mark recalls the first two flasks his dad purchased were a quart Stoddard double eagle and a quart Willington flask which are still contained in the collection. During his dad's tenure as a premier collector, Mark was fascinated by the flasks and studied all the mold variations and their different colors, recording all of the examples in the family's collection. Mark and Andrew continue collecting together making the collection a third generation collection. David is quite interested in the collection as well and has captured each flask in a professional photograph.
Mark has earned the reputation of being a specialist on early American historical flasks and has the stories to back it all up. A current life member of the FOHBC, the Connecticut Museum of Glass and other organizations, Mark writes a column on historical flasks for the Antique Bottle & Glass Collector magazine with factual information for collectors at any level.
The Vuono collection is without a doubt the finest collection of historical flasks ever put together taking over fifty years of dedication in its assemblage.
Mark's lecture for the banquet dinner will be focused on educational collecting and sharing knowledge with other collectors with some reflections on pioneer collectors of their day. This is not to be missed!
Visit the 2013 FOHBC National Antique Bottle Show page