2013 FOHBC Semi-Annual Board Meeting 
Manchester, New Hampshire
19 July 2014 – Manchester
For four straight hours, the FOHBC 2012-2014 term elected board members met to have their semi-annual board meeting. The other annual meeting was held earlier in the year (03 March 2013) prior to the Baltimore Antique Bottle Show. All board members were present with the exception of Martin Van-Zant (Bottles and Extras Editor), Jack Hewitt, Southern Region Director (arriving to show late due to family emergency), Jamie Houdeshell, 2nd Vice President (family emergency), Ed Kuskie (Northeast Region Director) and John Panek (Director at Large).
The time went by fast with only about 60% of the agenda being covered. The balance will be covered during the next monthly board conference call. All FOHBC meeting notes are posted for review at FOHBC Notes of Record.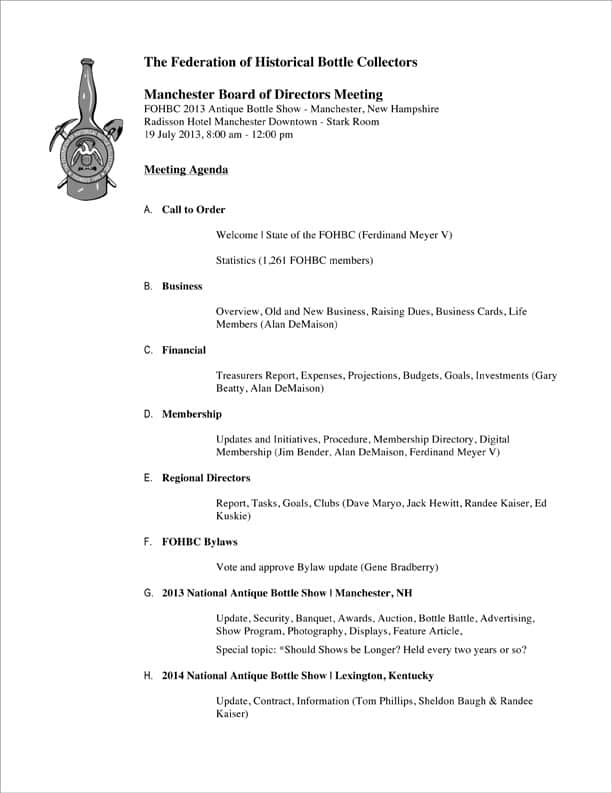 We can assure you, some major new inroads were made during this meeting. Look forward to upcoming announcements.
Note: All photographs are by Scott Selenak, official FOHBC Manchester show photographer. Scott flew in from Los Angeles, California.