Show Program
Click to Read or Download Program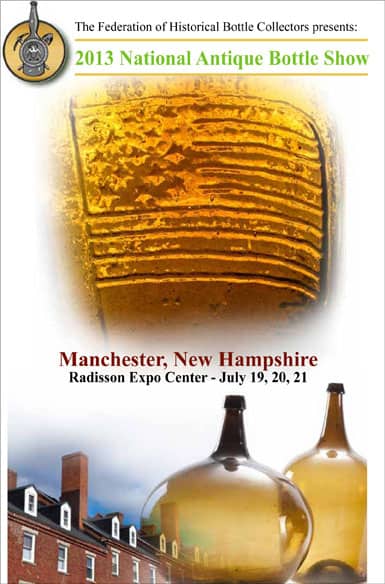 ---

---
Show Early Bird (Saturday) and Sunday Public Admission Costs

---
Expo Center Table Plan & Dealer List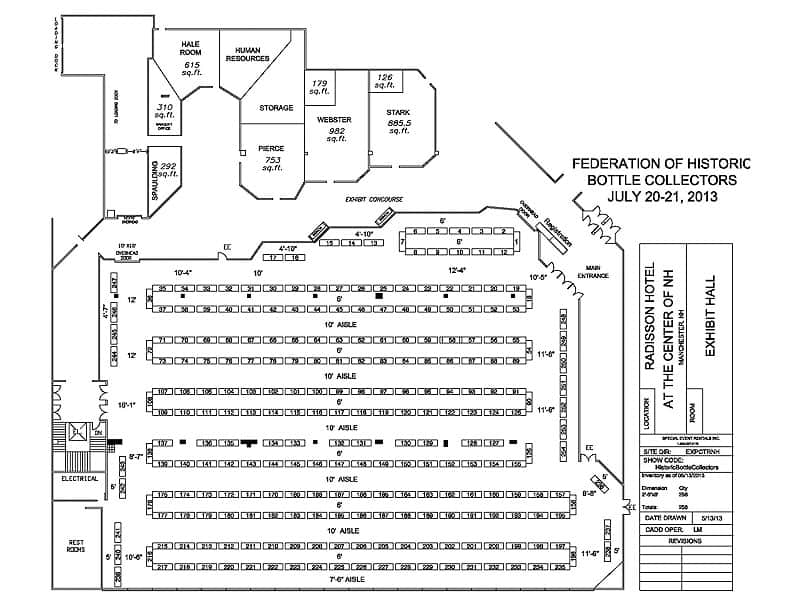 ---
List of Displays & Displayers
Michael George – Stoddard Glass Factory Production
Ken Previtali – Ginger Ale Bottles / Go Withs
Tom Marshall – Early New England Inkwells
Mark Newton – Lyndeborough Glass
Paul Richards – Stoddard Glass Fragments
Temple Historical Society – Temple Glass
Dale Murschell – Wistarburgh Glass
Jeff Noordsy – New England Miniatures
Bob Kennerknecht – Sunburst flasks
Dave Olson – Bonney Inks
Rob Girouard – Striped Sandwich Glass
Dave Waris – Moxie Bottles
Judith Tallman – Bottles / UV Equipment
Dennis Gionet – Manchester bottles
Mark Yates – Mount Vernon Glass
Jim & Karen Gray – Stoneware jugs
Dick Watson – FOHBC History
Jim Bender – Reproductions
---
New England Bottle Battle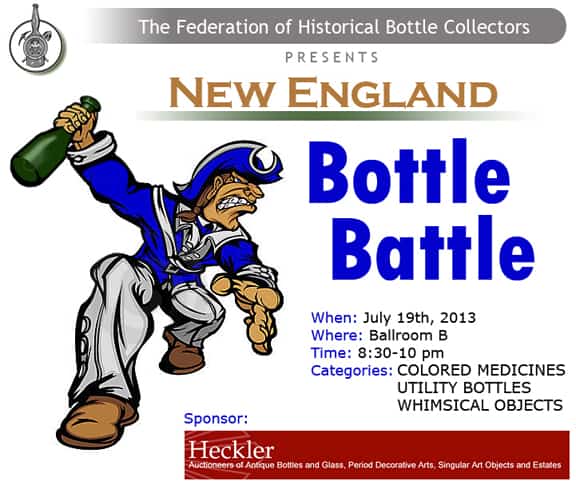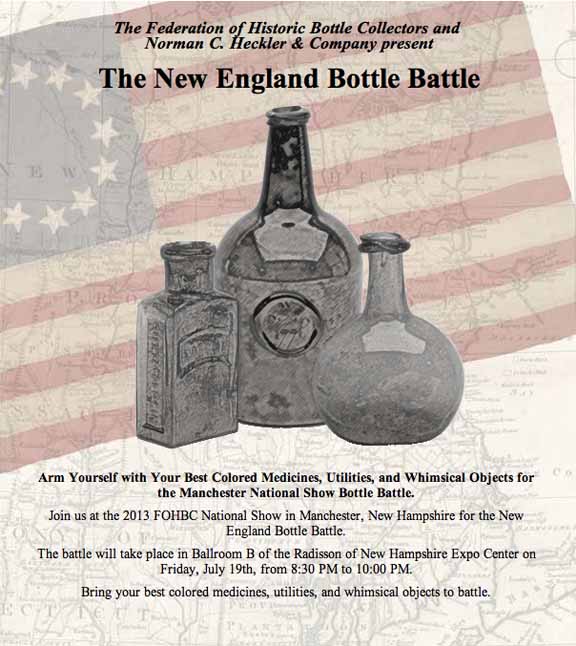 Please explain the process?
Your bottle will be checked in at the start of the category event. This process may take some time depending on the number of applicants. Your object will be given a number, and displayed with the other applicants. The judges (3 in each category) will review the group making cuts until the top choices have been selected. These will be placed into a backlit cabinet for final review, and the judges will select a winner.
What constitutes as a UTILITY bottle in this event?
A blown and molded body container form that would have been for household or utilitarian use, but does not fall into another primary collecting category. Objects should be pre-civil war era.
Utilitarian bottles were a generic containers serving a very diverse purpose, and contained anything from beverages, oils, and spices to mustards, medicines and snuffs. For the purpose of this event, it should be made clear that embossed, as well as unembossed, are acceptable. Demijohns, early flasks, pickles, peppersauces, inks, and embossed medicines, although utilitarian in nature, are not a consideration for judging in this event. They fall under other "primary" collectible categories. Snuffs and blacking bottles are acceptable, as well as unusual pitkin and chestnut bottle forms which were clearly produced for a utilitarian purpose. Ultimately, the three judges of this category will make the final decision, and will be basing their selections on the above criteria. Good luck to all!
Medicines… pontilled? Is aqua a color?
The medicine bottle competition is likely to be a rather large and exciting group! There is no restrictions regarding pontil or smooth base, and yes aqua is a color. Once again, final decisions will be in the hands of the judges.
---
Glass Works "Madness in Manchester" Auction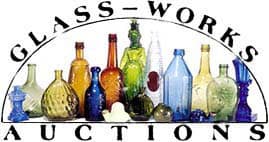 Auction #99, The "Madness in Manchester" Auction, Saturday evening, July 20th 2013 (7:00 PM) at the Radisson of New Hampshire Expo Center Ballroom, 700 Elm Street, Manchester, New Hampshire 03101
This is a live auction held in conjunction with the Federation of Historical Bottles Collectors National Show
Bidding opens July 3rd, On-line bidding ends July 17th VISIT AUCTION
---
Seminar Times and Locations
(click for more info on Seminars)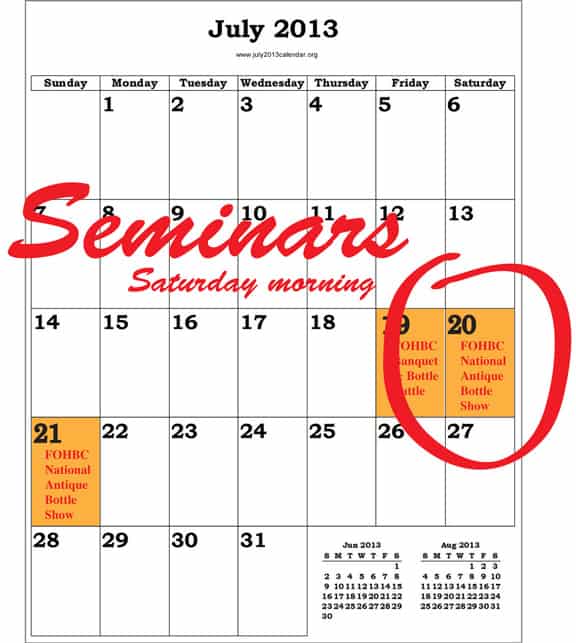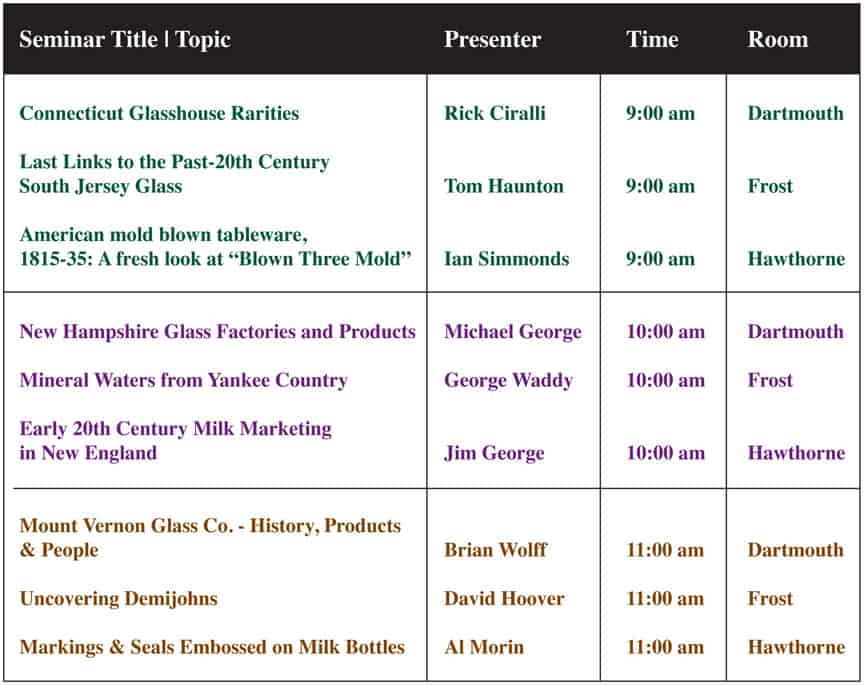 ---
Banquet Speaker
If you haven't reserved your dinner seat yet, please do as soon as possible! Monday the 15th is the deadline!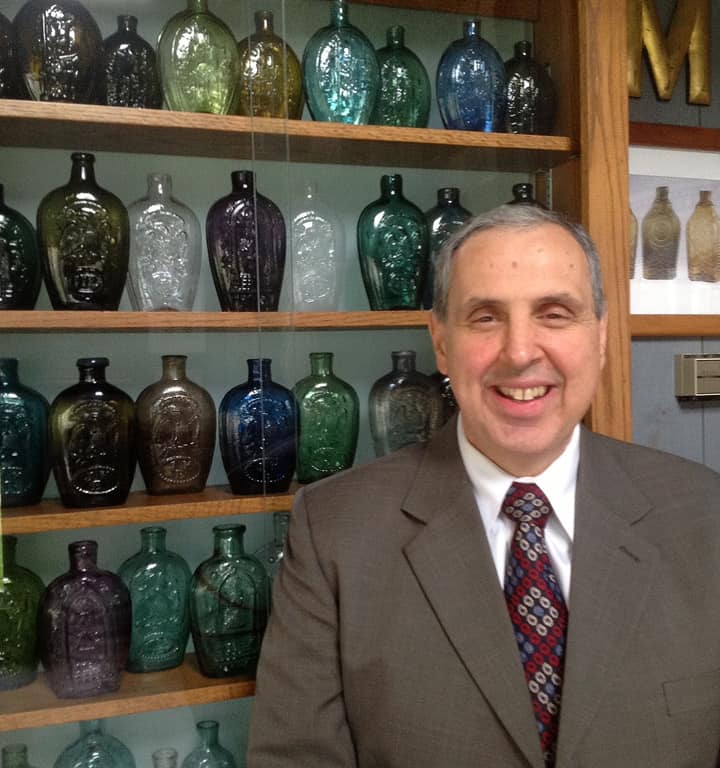 Education and Sharing are the Keys to Great Collecting!
by Mark Vuono
Mark Vuono was born and raised in Stamford, Connecticut where he still resides with his lovely and gracious wife Annie. They have two sons, Andrew and David. Mark was subjected to bottle collecting at the early age of nine as his father was the legendary pioneer flask collector Charles Vuono. Mark recalls the first two flasks his dad purchased were a quart Stoddard double eagle and a quart Willington flask READ MORE
---
Show Raffles!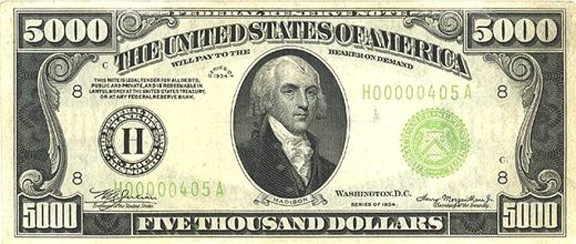 Great news! A $5 thousand dollar anonymous donation has been given to the FOHBC Manchester Show to conduct a raffle or raffles during the show (both early admission and general admission*). The FOHBC thanks this well known west coast auctioneer for this generous gift. Another GREAT reason to attend the show!
We'll be using this donation to have a $1,000 raffle on Saturday near the end of the day for the early buyers and eight $500 prizes throughout the day on Sunday. Dealers setting up at the show are also eligible for these raffles. Vouchers will be given to the lucky winners to be spent at the show or the auction only.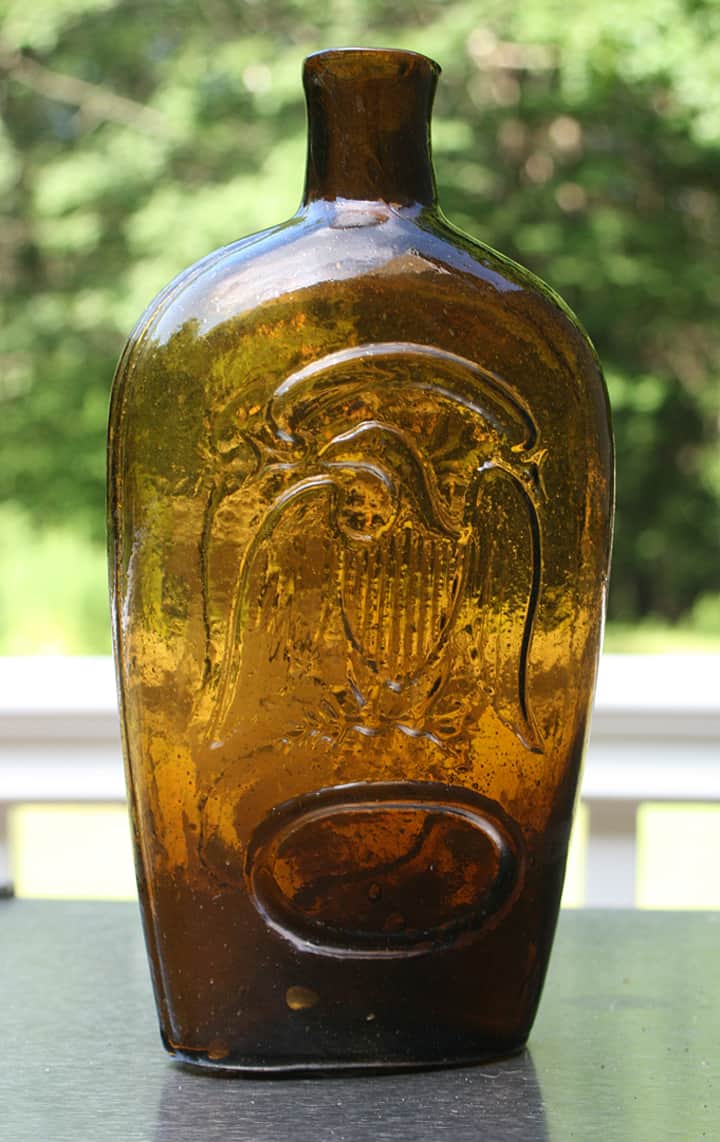 There will also be a separate raffle (above and beyond the raffles noted above) for a quart sized, double eagle flask from Stoddard, New Hampshire to benefit the Virtual Museum. The show Chairs (Michael George and Maureen Crawford) were given the authority to buy a flask or equivalent piece of glass with a $1,000 anonymous donation. We will sell six $1 raffle tickets for $5. The winner will not have to be present. The person making the $1,000 donation did not want public recognition.
*FOHBC officers, show chairpersons, and their spouses/partners or children are not eligible for the $5,000 promotion. Any consultants to the FOHBC are also not eligible. FOHBC officers, show chairpersons, and their spouses/partners or children are eligible for the Virtual Museum raffle.
---
Chatter
Last Chance for Banquet Tickets!
Monday, 15 July (that is tomorrow!) is the absolute deadline for the FOHBC banquet on Friday, 19 July. Attend the cocktail party, dine with friends, hear Mark Vuono talk on "Education and Sharing are the Keys to Great Collecting!" and watch the awards ceremony. The New England Bottle Battle will immediateluy follow the banquet.
Show Chairman Talks
Michael George Talks on the FOHBC 2013 National Antique Bottle Show  SEE VIDEO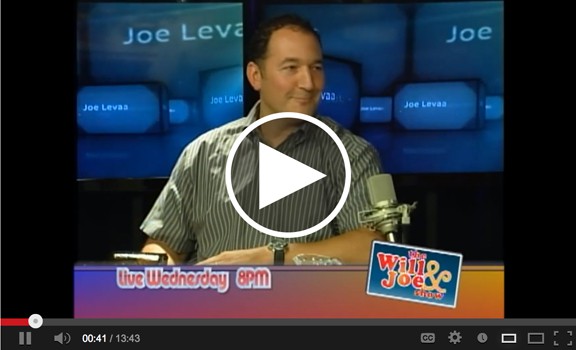 Oversize | RV Parking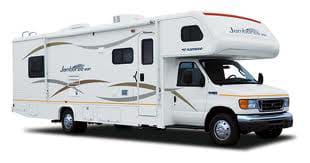 If you will be setting up at the show and will have a LARGE sized vehicle taller than 7 feet (the height of the parking garage) please get in contact with Maureen Crawford. She will need to reserve a parking space for you in the back lot outside which is $10 per day. She will need to know this in advance as this is the employee parking lot that we will be taking space from.
All Radisson rooms sold out
Because of the room sell-out at the Radisson, Maureen Crawford (co-chair) has negotiated the same rates at the Hilton Garden Inn as we had at the Radisson. The Hilton is a 15 minute walk to the Radisson. To book the FOHBC rates at the Hilton, call them directly at 603.669.2222 and give them the FOHBC name or mention Federation of Historical Bottle Collectors.
---
Show Contract
Click to Read or Download Contract