Dave Kyle and his Figural Bitters
03 April 2014
by Ferdinand Meyer V
[Reposted from Peachridge Glass] Often, when I travel to bottle shows around the country, I am afforded the luxury of visiting some fantastic collections and meeting with some great people in their homes. In some cases, I am also able to see examples from private collections that are presented to me at a secluded area at a regional bottle show due to being unable to adjust my travel schedule to see a collection. In this case, I could not get to Thousand Oaks, California to see some of the great figural bottles from the Dave Kyle collection. These bottles came to me in two boxes and I was able to review, discuss and photograph at the two day Morro Bay Bottle Show this past weekend. I hope you will be as impressed as I am with Dave and his passion for figural bitters. It looks like I need to put Thousand Oaks on my radar.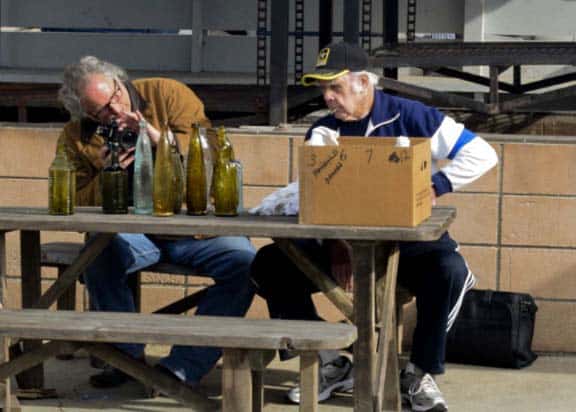 I will not be captioning each picture as many bitters collectors will recognize the classic iconic bottles. For those of you that need a little help, you will see a trio of National Bitters (ear of corn figural), Cannon's Dyspeptic Bitters, a killer green Palmer's Tonic Bitters semi-cabin, Brown's Celebrated Indian Herb Bitters (indian queen figural), Capital Bitters, Old Homestead Wild Cherry Bitters, Best Bitters in America, Professor Byrne Universal Compound Stomach Bitters, Wheeler's Berlin Bitters, Smith's Druid Bitters, National Tonic Bitters, Harvey's Prairie Bitters, Dr. Wonser's Indian Root Bitters, Drake's Plantation Bitters, Fish Bitters and the only known labeled London Medicated Health Restorer (ex: Ferdinand Meyer IV, my father).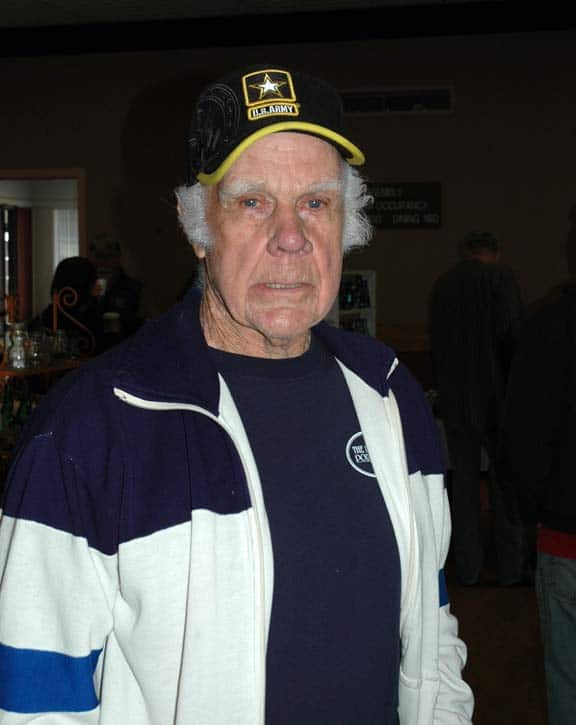 Dave Kyle
First of all, a little background about myself. I was born in Los Angeles on July 6, 1930 and attended Fairfax and Menlo Park high schools. Two years of college at Menlo Park and Santa Monica City College included football and track and field. Next, I was in the Unites States Army from 1952-1954 during the Korean War. Upon discharge, I worked at Safeway Stores and then it was 28 years with the Burbank Fire Department. I retired in 1985.
Actually, as old as I am, I should have started my collecting as Dick Watson did in the 1950s. The first bottle I bought was a 'Warner Kidney and Liver Cure' in July 1992. My son Scott and I traveled up to Carson City, Nevada to visit a bottle-digging friend of my son, John Shuler. While with John, he showed me a 'National Bitters Ear-of-Corn' figural and a 'Brown's Indian Queen Bitters' which I fell in love with, thus a love affair with not only Warner's Cures but also figural bitters. I have to mention the name Jack Stecher at the start of my quest for Warner's. As well as being a great friend, Jack is a tremendous help with his knowledge and collection of many labeled Warner's. I have been his house guest on many occasions and have traveled to many eastern shows with Jack and got to meet the likes of Don Keating, Ted Krist, Dick Bowman, Burt Spiller, Bob Sheffield and Cliff Moore. Great people with great bottles in their collections.
Along with my searching and buying Warner's, I was also, when I could afford it, buying more bitters. There are so many people that I met during my travels and search for the Warner's and bitter's, I don't have the room to list them all. These being collectors, dealers, auctioneers, and good people that have passed on. I thank them all!! I went on to acquire 150 Warner's, some being one-of-a-kind. I also started getting more involved with the bitters. Eventually, I sold off all of my collection to the "Warner Hard Hitters". I went to many shows and was involved with most of the major auction houses plus e-Bay and private sales. I do have some medicines but no more Warner bottles, just some advertising signs plus some poisons, my favorites being the trio of 'skull poisons', small, medium, and large thanks to Mike George and Greg Bair.
I kept my quest going for more bitters during the 1990s and 2000s. In 2007, I took out a reverse mortgage on my house here in Thousand Oaks, California and used some of the funds to acquire the ever rarer bitters bottles that of course, command higher prices. I now have a total of 150 bottles, mostly bitters, but some medicines, poisons, and six beautiful 'Flaccus Jars'. I also enjoy woodworking, which came in handy for constructing my seven back-lighted bottle cabinets.
I really don't drive much anymore due to Glaucoma and way too much traffic! A good friend, fruit jar Globe collector, John Swearingen and I, have traveled to quite a few shows together and will be flying to Lexington, Kentucky the first of August for the much anticipated FOHBC National Antique Bottle Show. The bottle ride so far for me has been fantastic with meeting so many great people. I would also like to mention and thank my 'Warner World' mentors such as Jack Stecher, Andy Lange of Plymouth, Massachusetts, along with Steve Jackson, Bob Sheffield, Mike Seeliger, John Wolf, Ed Ojea, Terry McMurray, and Mike and Kathy Craig. I apologize if I've left anyone out, there have been so many!
I'll close for now with a big thanks to Ferd Meyer for asking me to do this write-up for Peachridge Glass. I also thank him for his input and help to me personally. I think we all admire his contributions, energy, knowledge, and leadership to our great hobby. Someday, if I get to the Houston area, I'll take him up on his offer to see his great collection!! Thanks to all and the good Lord willing and if the creeks don't rise, I'll see ya in Lexington!!