Found: One, "A. Schriener (sic) New Orleans" Bottle
Special from Peachridge Glass
Here is a really cool bottle from an even cooler city. Well not so cool temperature-wise but just plain ole' cool, New Orleans, Louisiana. NOLA, the Big Easy…Crescent City. Incoming e-mail below with three pictures I cropped in Photoshop.
Hello, My friend and I found a great lot in the 7th Ward of New Orleans and dug many iron pontil sodas when we came across this bottle. It appears to be a medicine but other local bottle hounds think it may be an early bitters. We checked the New Orleans Bottle Digger bible and could not find it on any list. It has a re-fired pontil, BIM, applied tooled top in an ice blue dark aqua coloration. It stands over 8″ which leads me to believe it may be a bitters. The embossing says "A. SCHRIENER N. O." Any help would be greatly appreciated.
Sincerely, Mike Burkett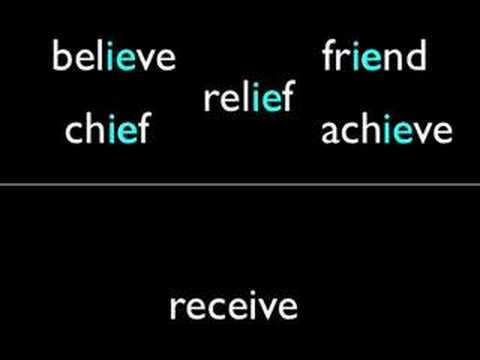 Well I can't confirm if it was a bitters (yet) but it looks like the name "SCHRIENER" is misspelled on the bottle. It should be "SCHREINER" with the "i" and "e" transposed. Pretty common mistake back then, and even now. Of course all of us spellers use the "I before E, except after C" poem in our mind often. It is a mnemonic rule of thumb for English spelling. If one is unsure whether a word is spelled with the sequence ei or ie, the rhyme suggests that the correct order is ie unless the preceding letter is c, in which case it is ei. There are also exceptions, there always is.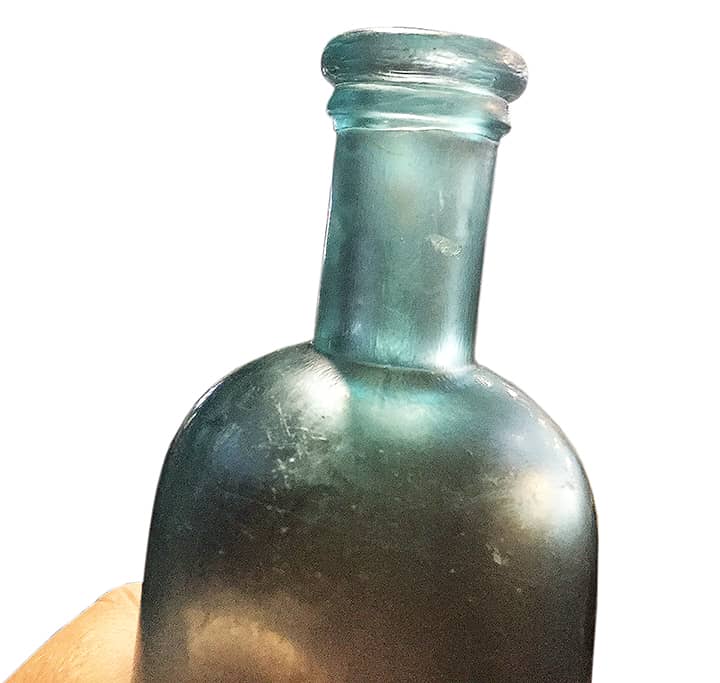 Auguste (also August) Schreiner was a Frenchman which I find odd. This is according to two United States Federal Census documents. He was born somewhere in the 1820s and his parents also, were both from France. I would have thought he was a German. Anyway, he comes to America, probably via New York or Philadelphia and ends up in New Orleans in the French Quarters. Of course. At first he is as a druggist anchored to the corner of a local hospital. Not a bad place to be. Go to any medical center in United States and you will see a CVS, Walgreens or RiteAid (or maybe all three), within eye-site of the hospital. Like fleas on a dog. Well, not my dogs.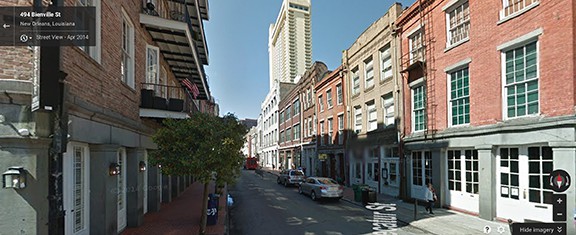 Schreiner operates his drug store from about 1860 up until 1884 at least, according to New Orleans City Directories and a few local newspaper notices. His primary address is 291 Decatur Street (Click) in the French Quarters, pictured above in 2014. He does spin-off another August Schreiner with his wife Virginia. August Jr. was also a druggist, though at a different address in New Orleans.
So we do have a bottle that looks very much like a bitters. Now we just need to find a labeled example or an advertisement.
Ok, Marianne Dow reminds me that there is a listing in Bitters Bottles by Carlyn Ring and W. C. Ham, that being S 60 SCHRIENER'S STOMACH BITTERS. So there you go. This has got to be the same bottle requiring an update in Bitters Bottles Supplement 2.
Select Listings:
1860:

Augute Schreiner, New Orleans, 6th Ward – Federal Population Schedule
1863-1864:

IRS Tax Assessment for A. Schreiner, New Orleans.
1866-1868:

A. Schreiner, Drug Stores and Apothecaries, druggist, 198 Old Levee, c Hospital – New Orleans, Louisiana City Directory
1869:

August Schreiner, Apothecary, c Eighth and Magazine – New Orleans, Louisiana City Directory
1869:

 A. Schreiner, druggist, 298 Old Levee, c Hospital – New Orleans, Louisiana City Directory
1870:

August Schreiner, age 42, born in France abt 1828, druggist, living New Orleans Ward 6, Virginie Schreiner (49), Julia (13), Eddy (11), Charles (9) – United States Federal Census
1870:

 August Schreiner, Druggist, Decatur, sw. corner Hospital, r same – New Orleans, Louisiana City Directory
1871-1886: 

Auguste Schreiner, Druggist, 291 Decatur, 2d dist. – New Orleans, Louisiana City Directory
1871-1872:

 Auguste Schreiner, Jr., Druggist, 8th. cor Magazine – New Orleans, Louisiana City Directory
1878:

August Schreiner, Druggist, Villere, bet. Seguin and Barthomolew – New Orleans, Louisiana City Directory
1880: 

August Schreiner, age 59, born in France abt 1821, mother and father both from France, druggist, living New Orleans, Virginia Schreiner (63), Charles (19) – United States Federal Census