Remembering Bob Harms
By John Panek and Ray Komorowski – 1st Chicago Bottle Club
Our very own bottle hobby legend, Robert J. (Bob) Harms, died April 18 while vacationing at the home of his daughter (Dr. Terry) in Englewood, Florida.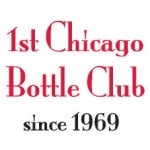 Bob, also known as RJ, "Mr. Hutchinson" and Robert (the latter when his wife, Barb, needed to call his attention to something he said or did that she disapproved of), was a 39-year member of the 1st Chicago Bottle Club. During that time, he served 22 years as a member of the Executive Board, either in the capacity of President, Treasurer or Newsletter Editor.
During the 1980s, '90s and the first decade of 2000, he and his wife, who preceded him in death, were backbones of the club. He also was a life member of the National Bottle Museum and the Federation of Historical Bottle Collectors. He belonged to many other bottle clubs during his time in the hobby.
Bob was filled with many memories and experiences of his various occupations and roles he played in his 88 years on earth. He was particularly proud of his service in the Seabees, the U.S. Naval Construction Forces, during World War II. He was a factory workers in his teenage years when he enlisted and became an operating engineer when he volunteered to operate a crane because no one else wanted the job.
After the war, he became a machinist, a mechanic, a policeman, a fireman, a truck driver, an excavator, a demolition contractor, a bank director, a railroad wreck specialist and the owner of many related construction and railroad businesses.
He had wonderful and delightful stories to tell us all about each and every one of his occupations. His stories about his Seeabees experiences during World War II were especially funny and ultimately became legendary.
When Bob discovered the world of bottle collecting in the early 1970s, he became a bottle collector extraordinaire. More specifically, he was a Hutchinson collector extraordinaire. "If it isn't a Hutch, it"s not a bottle," he loved to say. His home and bottle room were incredible sights to behold, with stacked cases and row upon row of Hutchinsons, including the most complete collection of Chicago Hutches including all varieties and examples from the many glass factories which manufactured the bottles. At one time, he owned three 50-state collections.
His awesome collections also included picture Hutches, rare and common, from every state and the 19th century territories. He always enjoyed speaking to other Hutchinson legends including Ron Fowler, RJ Brown and Zang Wood. Bob was a charter recipient of Ron Fowler's Hutchinson Bottle Collectors Association Hall of Fame Award.
Curious as to how Hutchinsons were bottled, in the late 1970s or early '80s he purchased a bottling machine used by the Litchfield (Ill.) Bottling Works from father-son collectors in Alton, Illinois who were among his good friends. They had found it in the factory. He figured out how it worked and demonstrated it at several bottle shows, much to the astonishment of all who watched.
"Not only was Bob a premier Hutchinson collector, he also was a very close and dear friend of my wife, Claudia, and I," said John Panek, president of the 1st Chicago Bottle Club. "We traveled to many shows with Bob and Barb. We cruised the Caribbean together and always managed to find a casino in every state we visited during a show. The Las Vegas and Reno shows became favorites for obvious reasons.
"When Claudia, the children and I moved to our new home in Deerfield, Bob provided the 1880 paving bricks that line our walkway and patio. He had kept the bricks in his yard after removing them from the streets of the village of Dolton.
"When Bob obtained a duplicate of a rare Chicago Hutchinson that I did not have in my collection, he would call and say: 'John, I have a new addition for your collection.' I dared not ask him what I could give him for it because he would feel I was insulting him.
"He was an extremely intelligent individual who loved to read the daily newspaper, magazines and books, especially those pertaining to railroads and history. He was also a versatile writer whom I considered a modern day 'Mark Twain.' His columns in our newsletter about his travels in his 'Cowboy Cadillac' to bottle shows across the country were hilarious classics. There also were stories about trips to Hawaiian bottle shows.
"Fellow club member Jerry McCann can relate the humorous and wonderful stories of their trips to Australian and New Zealand bottle shows. Many more stories came from the trips to the U.K. and other European places taken with Jim Hagenbuch. He will be loved forever by Claudia and myself."
Bob's son, Bobby Jr., who worked for his father all of his life in Bob's various businesses and was a backhoe operator on many club digs, will take possession of the collections, Panek said.
Bob is survived by his children, Sharon, Bobby Jr., Dr. Terry and Carolyn; his brother, Al; stepchildren Steven, Val, Denise, Alison, Keith and Tracy, and many grandchildren and great grandchildren.