Manville New Jersey Antique Bottle Show – Bigger and Better Every Year
by Jim Bender
12 February 2016
This past weekend, my good friend Jim Berry and I attended the Manville, New Jersey 20th Annual Antique Bottle Show. Another good friend of ours, Bob Strickhart, is the show chairman of the Manville show and took those duties on when the show was about to die off. Bob has supported the hobby for years and could not just sit back and watch a show be thrown away. These past three years, Bob has taken a small show and turned it into a full house, 100-table show. The limiting factor now seems to be space. I am sure Bob could grow bigger if he wanted to, but the location, at the VFW on Washington Avenue, is about as perfect as can be. It is easy to get to and has plenty of close-by parking.
This year Bob added a free breakfast for all of the dealers. Bob sets up at shows himself and realizes how hard it can be to find a quick breakfast in the morning and run down to the show for set up. The answer for him was easy and he gave the dealers a nice breakfast, at the show, as appreciation for coming. I know I sure enjoyed the eggs, bacon and hot chocolate.
Every inch of the showroom floor was used. There were four of the big auction house guys there to take consignments as well as sell bottles. Norman C. Heckler & Company, American Glass Gallery, Glass Works Auctions and North American Glass were all there. Dealers from several states turn out every year and it was nice to see a line of people waiting outside 10 minutes before the doors opened. There are no early buyers at the Manville show. Two hundred and twenty people passed through the gate. That's not bad at all for a show held on Super Bowl weekend.
John Lowery has donated two bottles to raffle off at the show for the last 20 years. This year he donated a very nice Washington Taylor pint historical flask in a pretty teal green color as well as a Merchants bottle from Lockport. I was told they sold a bunch of tickets. Both bottles went to younger collectors, which made me feel great. Along with the bottles they had a 50/50 raffle, which this year was the largest they have ever had.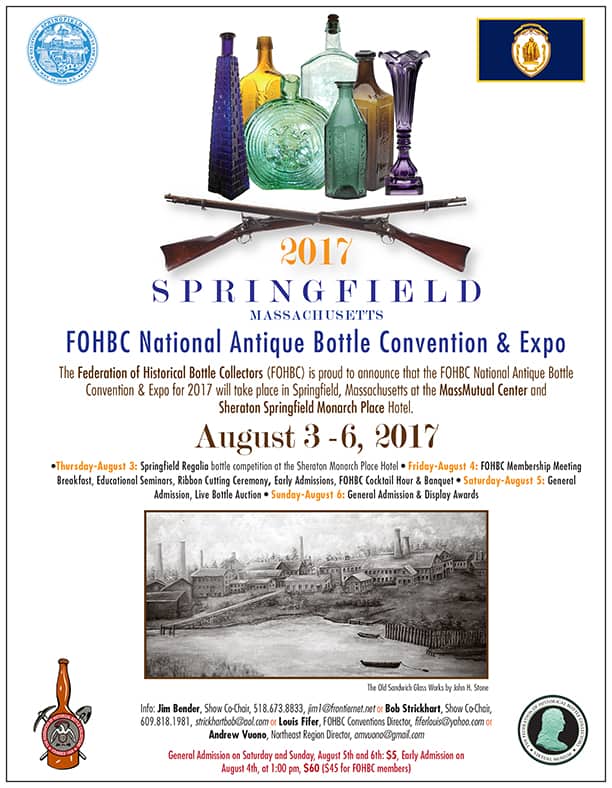 Every time that I go to a show, I meet up with friends and always laugh and have a great time. This year was no exception and extra special because I had the chance to meet some of the people Bob has recruited to help us in 2017 at our National Show as Bob and I are both co-chairman for the FOHBC 2017 National Antique Bottle Convention In Springfield, Massachusetts. We have been working on this event for almost a year already and plan on having an antique bottle and glass show that all will remember or will so regret if they miss. We have been slowly building what I call "Team Springfield." Anyone who has ever put on a show knows the amount of hard work it takes to do one right. A National Conventions is just too much for any one or two people to handle themselves. So we both have been recruiting friends of the bottle world who we can count on and most have already been involved in shows and event planning already. Later this year watch for our press release announcing "Team Springfield."
Bill and Carol Petscavage took many of the photos in this article, a husband and wife team which will be handing the photography at Springfield. Manville was their first antique bottle show to photograph and a chance for them to get the feel of how a show operates. Having a photography team will be a huge advantage at the show. There will be so much going on it would be impossible for one person to cover everything. We are so lucky to have them on the team.
Being at Manville this past weekend just told me once again, that I have a great partner for Springfield. Bob and I both have had so many requests already for contracts, which we can't release until one week before the FOHBC 2016 National Antique Bottle Convention in Sacramento, California this August. However you can book your rooms now. We already have a dozen rooms booked from our block that we have reserved. I would not wait until the last minute if I were you. We are beginning to get worried if we will not have enough space and rooms blocked out at the hotels. To help us plan, we ask that anyone planning on coming, sign up as soon as possible so we can try to adjust to the volume of people coming. We will be at the 2016 National Convention this year in Sacramento, set up to answer questions and take contracts.
Springfield will be history in the making!