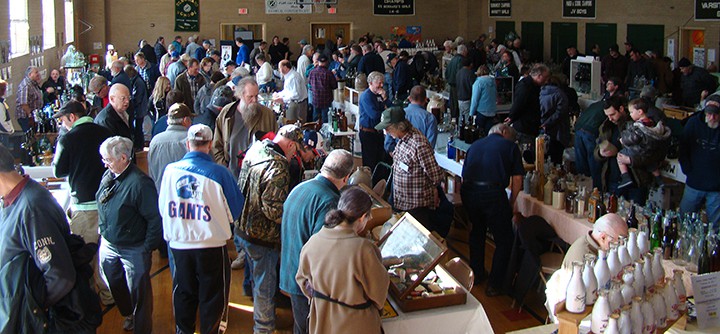 Somer's Antique Bottle Clubs 46th Annual Show and Sale
This past weekend I attended the Somer's Antique Bottle Clubs 46th annual Show and Sale held at St. Bernard's School West Campus located in Enfield, Connecticut.
I have attended this show for years and have always enjoyed it a lot. For over 40 years, Rose Sokol and her husband Bob, have run the show. I had a chance to work with Rose on a few FOHBC items with her club and she is a true patriot of the hobby. Her devotion to the hobby is second to none and her club should be very proud of her and what she has done for the club over the years.
The show is now chaired by Don Desjardin who has keep things running as smooth as always. There are normally about 50 sales tables at the show and about a half dozen displays.
The quality at the show is normally very good with most dealers from the New England states. I always find something to buy. Normally I attend shows with Jim Berry but he was busy this year so I was lucky enough to have two other good friends ride shotgun this year. Jeff Ullman a fellow collector from Cobleskill, New York and Jim Healy of Tribes Hill, New York made the trip with me. This was the first time that ether of them had been to the show. They both left with bags and were very happy. I believe you will see them back next year for sure.
On a sad note, someone took a nice pint Sunburst flask off a sales table. On a happy note she was caught and the police were called in. At these shows always keep an eye on your bottles as well as the guys bottles next to you.
For me, the day was filled with questions about the FOHBC 2017 Springfield National Antique Bottle Convention & Expo. I am looking forward to this major event more and more every day. Ron Rainka told me he would do a display of his Moore's ink collection, which should be a beauty. Ron is "Mr. Moore" when it comes to inks. For those of you that don't know Ron, he lives in the house of the famous J.I.E. & M ink man.
Wes Seaman told me he would be willing to do a seminar on Sandwich Glass. I have been told by many that Wes has done talks at some of the clubs meetings and they are great. I only hope I am not too busy running around that I can't go. Every day we get more ideas and better plans as we go forward. When I walk around and see how happy people are with these local shows I can't wait to see how they will like a mega show.
Jim Bender
FOHBC Historian, FOHBC 2017 Springfield National Co-Chair