Tuscaloosa Antique Bottle, Pottery and Advertising Show a huge success!
25 July 2016
Thanks go out to EVERYONE who helped make our first Tuscaloosa Antique Bottle, Pottery and Advertising Show a huge success!!
While Tuscaloosa is famous for the University of Alabama, we may have a new tradition building there. Bill Johnson and Bob McGraw are proud to report some very special results, and credit for that goes to many.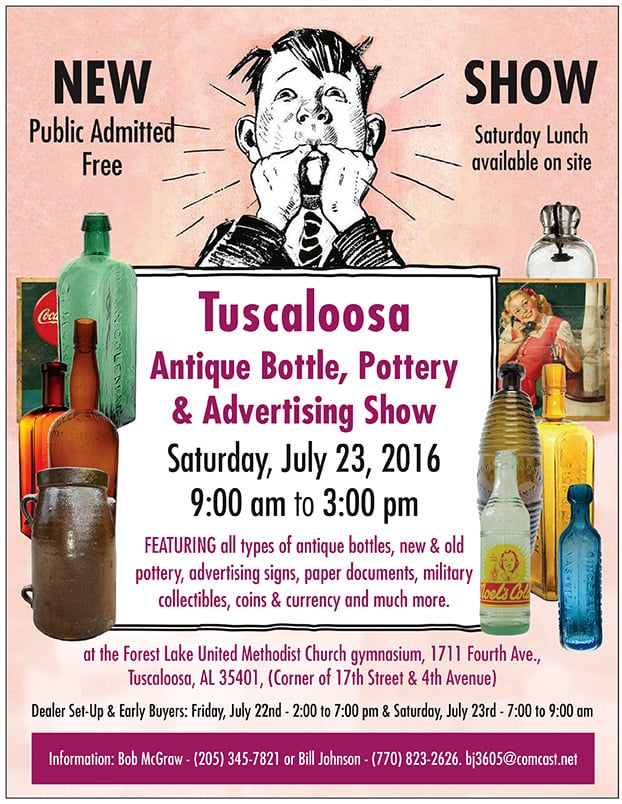 Heavy publicity included: advertising in both the BOTTLES and EXTRAS and Antique Bottle & Glass Collector magazines. Special local newspaper emphasis on the show was provided by the Tuscaloosa News, and several show flyers were posted in conspicuous places in and near the Tuscaloosa area. Our host, Forest Lake United Methodist Church, was most gracious in helping provide helpers, food and drink, and really "talked us up" within their congregation. Tom Lines provided a 12 foot x 4 foot sign which proudly hung in front of the building, and John Joiner gave us great 3 foot x 2 foot signs to post along nearby streets. Of course emails and contracts were sent to many dealers, and were distributed at earlier shows.
Results: Over 70 sales tables were sold to 40 dealers, plus 12 early buyers showed up on Saturday between 7:00 and 9:00 am. Quite a few non-dealers showed up during the "public-admitted free" hours on Saturday, and everyone was pleased that foot traffic was consistently heavy until well into the afternoon. We take special pride in announcing that dealers from six different states traveled to be with us in Tuscaloosa, many indicating they were pleased and will plan to come again in 2017. Especially notable is that one dealer group traveled from southern Mississippi and rented three tables to show a wide price-range of collectable glass; they were given appraisals of their better items, and ended up selling EVERYTHING THEY BROUGHT!
Special thanks to John Joiner for taking several photos at the show. We especially like the one where three dealers under age 35 (two under age 25) are posed around a display of soda bottles – there ARE some young folks pursuing our hobby!