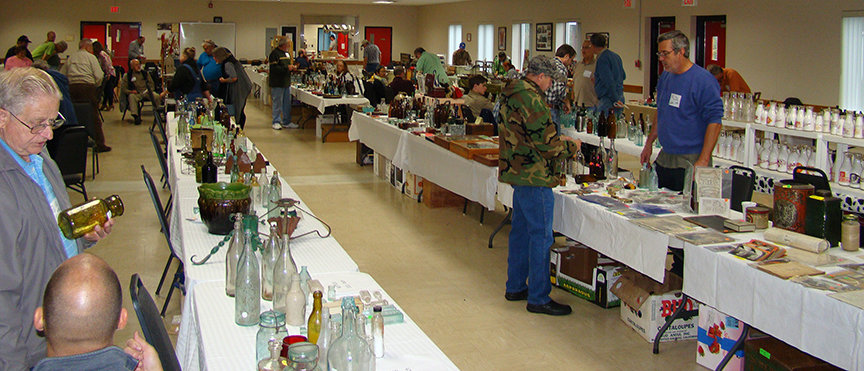 Empire Fall Shows Goes Well
The Oldest Club in The Country Holds It's Fall Show
25 October 2016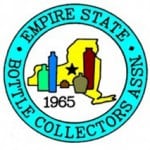 This past Sunday, a week ago, I attended the 18th annual Empire State Bottle Collectors Association bottle show which is held at the Scriba, New York Fire Hall located on Rt.104. This is the fall show that the Empire club puts on. It is a lot of work to put on one show but this is one of a few clubs that holds two shows a year.
A few days before the show chairman Barry Haynes, the show chairman, called me and asked if I could set up and sell at the show. He had a few late cancelations for different reasons and did not want empty tables. Normally I go to the show but have never set up there. I explained to Barry that I had to ask my good friend Jim Healy who was to be riding along to see what he had to say. One quick call and Jim was all in. You see Jim much like myself believes we have to support shows and the hobby.
So we left an hour earlier and took three tables. I knew one table would be used to support the FOHBC 2017 Springfield National Antique Bottle Convention & Expo as I am co-chairman along with Bob Strickhart. Things are coming along nice and Springfield will be a killer show. With more tables sold already than most shows we are still building up the event.
The Empire show has about 60 tables or so and is a typical show with a lot of local dealers. I love these shows and always find something to add to the collection. The lighting is great with a lot of natural light from the wall of windows. They serve great food and are about as friendly a group of people you could hope to meet. Next year mark your calendar and join us at the Empire State Antique Bottle Show. I have included some photos for all to enjoy.
Jim Bender
FOHBC Historian
2017 Springfield National Co-chairman
Read: The Oldest Consecutive Bottle Club in the United States?