Long Island Antique Bottle Association Show Report
16 November 2016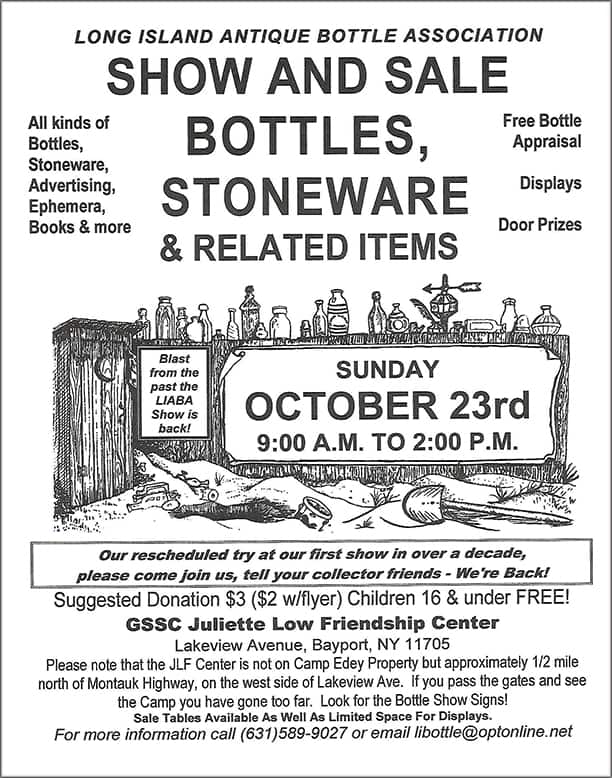 Well, we are off to a much better start. As some may recall, our first show in a decade, set for January 24th, was snowed out, as the day before we received nearly three feet of the white stuff. Alas, a close call with Hurricane Matthew which blew by the week before kept us on edge for a while.
We had about as perfect a day as one could want for a return to the show circuit. Near record high temperatures in the area and abundant sunshine. Pretty good for October 23d, if you ask me. There were plenty of goodies for the dealers and helpers from our local bakery, a 90 year old family business.
We opened the doors at 9 a.m., and by closing there were 60 paid attendance. Now, it may not sound like many; however, one dealer who was at Keene said they sold better here that they did at Keene. . .and I was most pleased with how my modest offerings were received by the public. Local items were strong as one would expect.
There were three fine displays for the eyes, one featuring slug plate strap flasks from hotels in New York City, Brooklyn and Long Island. It is amazing how many strap flasks there are from NYC, making for a very interesting collection. Another exhibit was based on bottles local to the area, Sayville and Bayport (I should note that the show was held just over the Sayville/Bayport border in Bayport). The purpose of this exhibit was to show the public the wide variety of bottles used by local businesses over the past 100 or so years. Ranging from blobtops from the 1880-1890 era to the last milk bottles from local dairy farms in the 1960's as suburban development boomed in the area, it held many spellbound. Finally there was an exhibit of stoneware from a well known local pottery, the Brown Brothers of Huntington, L.I., featuring their prized epitaph pieces.
While some potters, such as Burger, Stetzenmeyer of Rochester, Norton of Bennington and others are known for deer, lions, spectacular florals, the firm of Brown Brothers is known for its epitaphs. Each is unique and were produced c.1875-76. Collectors know of about 30 different epitaphs in total.
The Long Island Antique Bottle Association is looking forward to our next show, likely in January of 2018, but time will tell…
Sincerely submitted,
Mark R. Smith, Long Island Antique Bottle Association