Bethlehem Bottle Show Was Packed
08 December 2016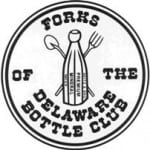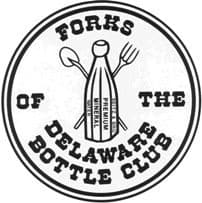 I was able to attend the Forks of the Delaware Bottle Collectors Association's 43rd annual show on November 27th. Visit on Facebook. The Bethlehem show, as most people call it, is a great place to meet friends from the North, South and Midwest. It never shocks me at how many people attend this show.
This year's show seemed to be really packed. When I arrived, I had to park out in front of the school because the parking lot was packed full. This was the first time I have ever had to do this. When I walked in I could not believe the crowd. It was so good to see so many people out supporting the show and hobby.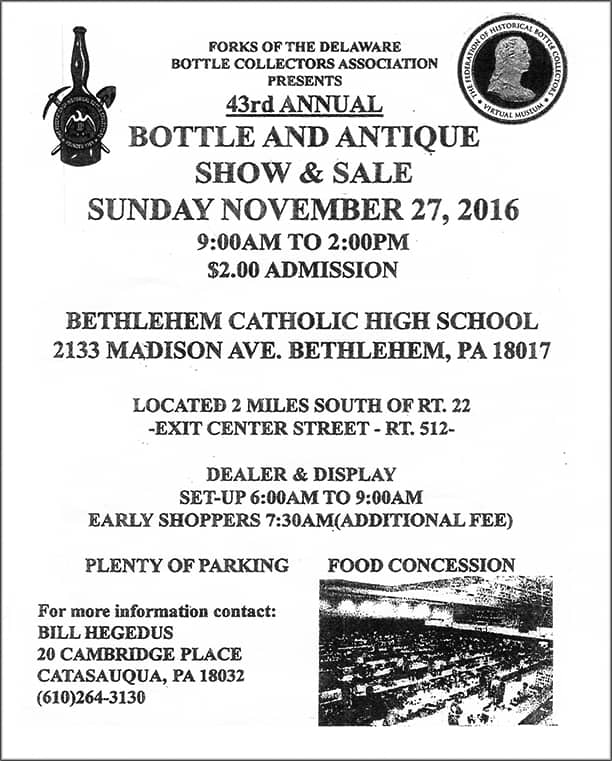 I did not make it a few feet inside the door when the first person I talked to asked me if I had a contract for the 2017 Springfield National with me. I did and handed him one. My co-chairman Bob Strickhart was a dealer at the show and was also promoting the Springfield Convention and Expo as well.
I had run into Dave Olson at the Albany show (Read: Capital Region Antique Bottle and Insulator Club Show – This Show Goes On Despite The Weather) a week earlier and he asked me to get him a few Springfield tee shirts like mine. The only shirts we have currently are the Team Springfield shirts that I have given to people helping us at the show. I did give Dave a shirt because he gave me two great bottles at a very small price to use for the kids' grab bags. One bottle will be given on Saturday and Sunday to some lucky child. These are bottles worth hundreds of dollars each. So as far as I am concerned, Dave is part of Team Springfield. Thanks again, Dave.
As I walked around the show room I saw many people I never see up North in New York. That is the great thing about traveling around to shows. You never see the same things or people. I ran into Dick Tucker, who along with Mike O'Brian, put on this show each year and does a great job. I learned after 40 plus years of conducting it, Dick is hoping to pass the torch. I can only hope they keep things rolling along as well as he has. Shows have always been and always will be the backbone of our hobby. It is sad when I learn that some shows are going away. That is why it is even more important that the FOHBC supports theses shows in any way it can. It is also why a national show becomes so important.
I had a few dealers tell me they may come to Springfield just to walk around. That sounds nice, but to have a show you must have dealers. If enough dealers take that viewpoint, the show will suffer for it. I am sure Springfield will be the largest Northeast show ever and the turnout so far is record-breaking. I really want everyone who can to come and be part of the show.
Then next year when we all get together at Bethlehem, we can share stories.
Jim Bender
FOHBC Historian
FOHBC 2017 Springfield National Antique Bottle Convention & Expo Co-Chair