Manville Show Big and As Crowded As Ever
07 February 2017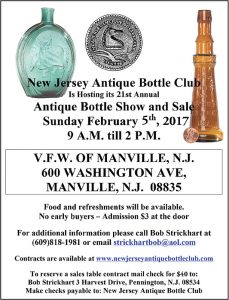 Last February 5th, Linda and I traveled to the 21st annual New Jersey Antique Bottle Club's Antique Bottle Show and Sale, held again this year at the Manville VFW hall. The site is just about right for the 100 tables that show always has. Bob Strickhart took over the duties as show chairman four years ago when the show was about to be canceled by the club. Lack of volunteers and members was a huge issue. So Bob decided to take it on alone if need be to save the show. He has more than saved it, it has grown.
This is one reason I was so glad to have Bob join me as the co-chairman of the upcoming FOHBC 2017 Springfield National Antique Bottle Convention & Expo this coming August. Bob and I have worked very hard to make this Northeast region event the best it can be. Along with our team (Team Springfield), we are still working hard every day planning the event. Don't miss this one!
You can see Bob's planning skills at a smaller level at Manville. You can quickly get in and unload. You are greeted at the door by Bob's wife Marianne with your dealer pack. Once you have your stuff set up, you are treated to a free dealers breakfast. The breakfast alone is worth half your table fee. What a deal and what a way to start the day off right.
Once again there was a line of folks waiting outside to come in at 9 a.m. when the doors opened. There are no early admissions at Manville. This seems to be something the dealers really like. Well over 200 paid admissions came through the door. It was crowded most of the day and I (or should I say Linda) sold well at our table. I am a floor general who spends the day visiting with people. We also handed out contracts and promo cards all day for Springfield. I have heard a lot of "I wouldn't miss this one, I'll be there."
I did have a few dealers tell me they were thinking of coming in as early buyers rather than dealers. This was heartbreaking for me to hear from friends I see at all the shows during the year. Dealers are what make a show. If enough dealers choose to do that it will hurt the show. I understand it costs a bit more to stay the extra day this year. But look what you get. Fun-filled days with events that only come around once a year. I hear all the time that shows aren't what they used to be. Ask yourself why that is? People also make the shows. It is not the building you're in that matters. It's you being there that counts.
Bob has proved that at Manville. He has created an event that is fun and people look forward to. So next year plan on going to Manville. Bob tells me he is sold out every year and has to struggle to get everyone in.
Next stop for me is Baltimore! Remember people make the shows!
Jim Bender
FOHBC Historian
2017 Springfield National Co-Chairman