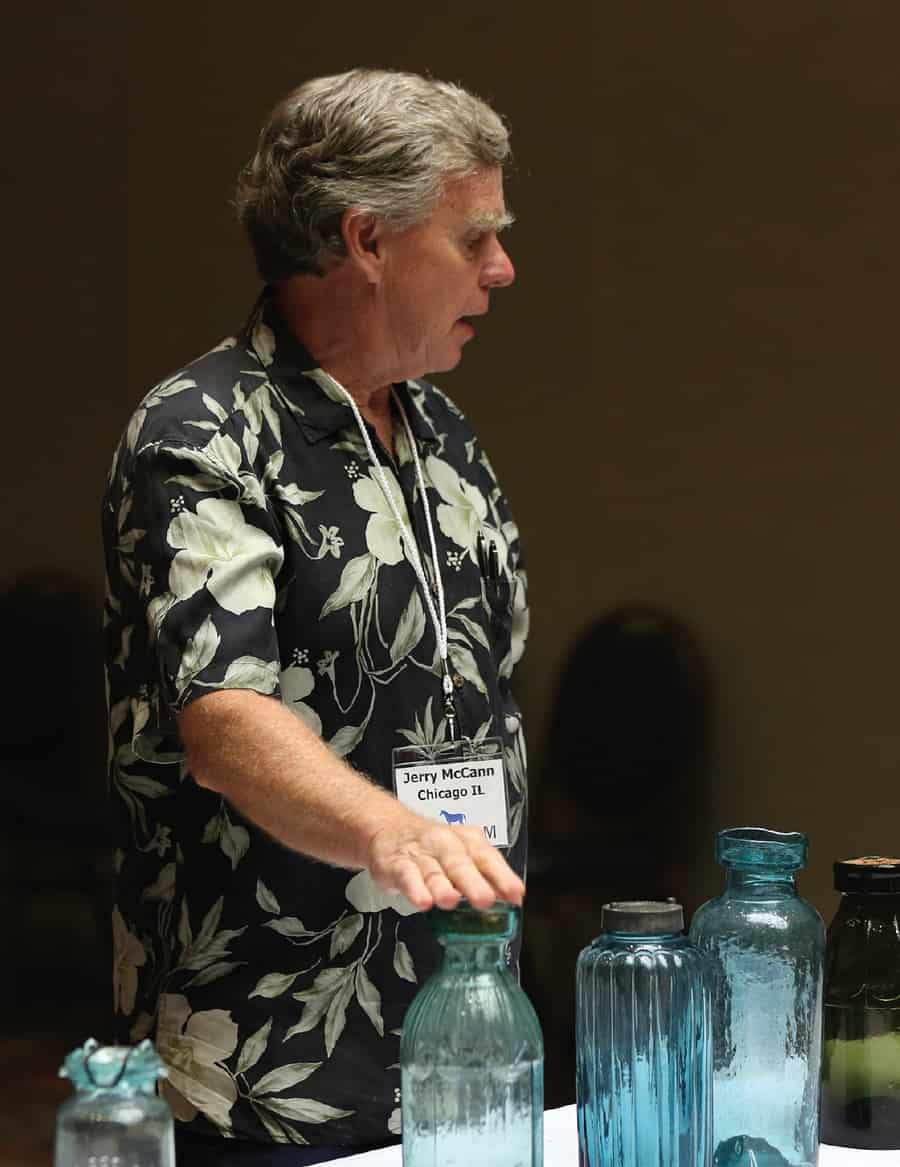 JAR COLLECTING NEWS
The FOHBC board voted unanimously to induct Jerry McCann into the FOHBC Hall of Fame. Thank you also to Joe Coulson for organizing and presenting the nomination of Mr. McCann.
Widely known as Jerry throughout the fruit jar and bottle hobby, Jerome John McCann is a Chicagoan through and through. He was born, raised, infused with Mid-Western values, educated, came of age, and still lives there. He began collecting fruit jars in 1967 and has added a wide variety of other antique categories including 19th Century artwork to American art pottery (especially Rookwood). Jerry now has a general fruit jar collection of 2,000 pieces made from the early 1800s to mid-century 1900s. He specializes in oversize jars (those of one-gallon capacity to five gallons) with more than 30 examples. He has also chaired shows in Chicago, Eastern Michigan and Muncie, Indiana, for the FOHBC, 1st Chicago Bottle Club, Ball Collectors Club and Fruit Jar Collectors of the Midwest. He has been published in Antique Bottle World (1977-1984), Fruit Jar Annual (The Guide to Collecting Fruit Jars, 1996-2020), and The Standard Fruit Reference 2011. By trade, he is a teacher of Biology and Chemistry and an Attorney at Law with an advanced degree in Federal and State Taxation. His hobbies include road bicycling, hiking, backpacking, wilderness canoeing and car camping. He has become what fellow Federation Hall of Fame member Ralph Finch humorously called him at different times "…the world's first full-time used fruit jar salesman…" and "…perhaps THE fruit jar expert in the world."
See PDF of Hall of Fame submission for Jerry McCann.
Jerry McCann response to FOHBC president after notification:
Hi Mike,
My thanks to the Federation for bestowing the honor of induction into the Hall of Fame. My collecting journey began over 50 years ago and has given me the pleasure of friendship and travel in pursuit of this hobby. This journey would not have been possible without the services provided by the seminal publications headed by Ken Asher (Old Bottle Exchange, Bend, Oregon), Frank Knight (Bottle News, Kermit, Texas), Neal Woods (Bottle Trader, Indianapolis, Indiana) and Jim Spencer & Jerry Jones (Antique Bottle World, Springfield, Ohio). These individuals are easy to overlook as they were not primarily bottle collectors, although their activities supported the bottle hobby.
Legendary shows of the 1970s (Las Vegas, Auburn, Rochester, York) became incubators for historical bottle collections and collectors. Without the hard work of hundreds of volunteers who organize the clubs and shows the hobby would be nothing. There are too many individuals to list or remember, but they all contributed to decades of fun and discovery. My induction to the HOF was made on the shoulders of so many friends who shared so much for everyone.