Latest Update – 08 August 2018
Look for full Cleveland National coverage at FOHBC.org and the November | December issue of Bottles and Extras. We are now processing articles, images and posts. Please stay tuned.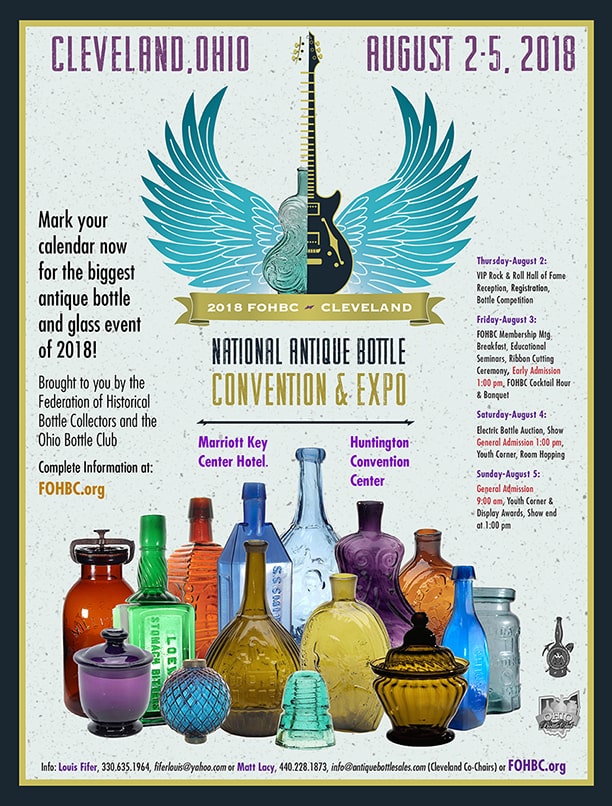 Contract & Information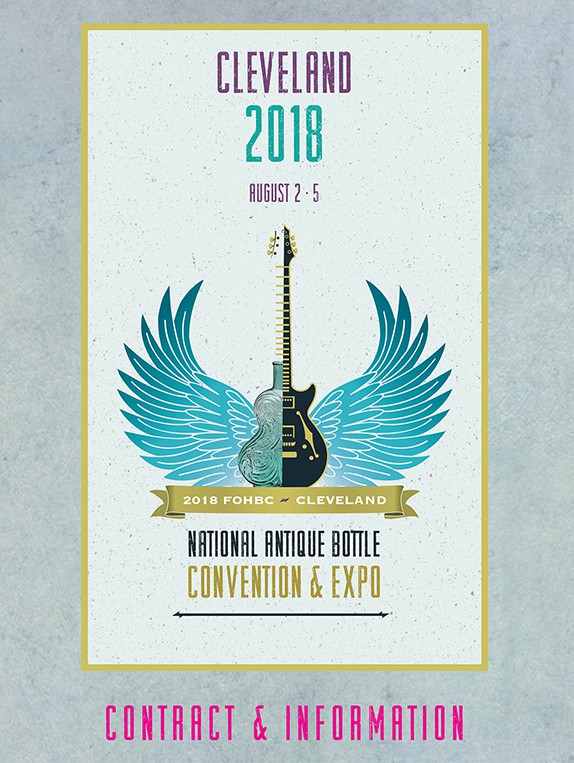 HOST HOTEL

Book room at host hotel Cleveland Marriott Downtown at Key Center for $149 per night
or Call: +1 216-696-9200
FOHBC ELECTRIC AUCTION
NOW ONLINE!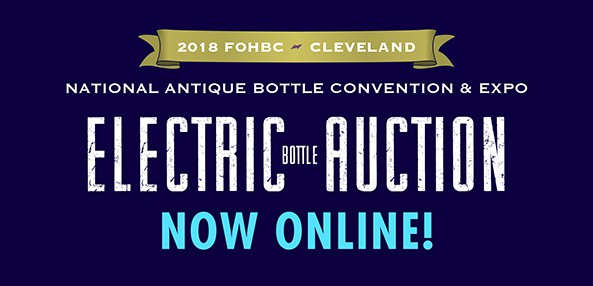 CLEVELAND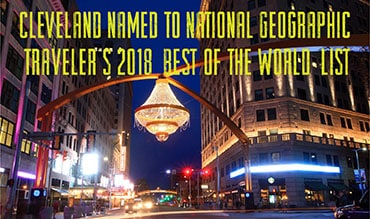 Things to do in Cleveland                      Cleveland Discounts
---
VIP RECEPTION
Rock & Roll Hall of Fame Reception
Cleveland National VIP Event at the Rock and Roll Hall of Fame and Museum. IMPORTANT: This event is for registered dealers, assistants, displayer's, early admission, seminar givers and approved volunteers. Convention badges required.
Trolley available from 12:45 – 5:30 pm to and from the Rock & Roll Museum Reception from Marriott.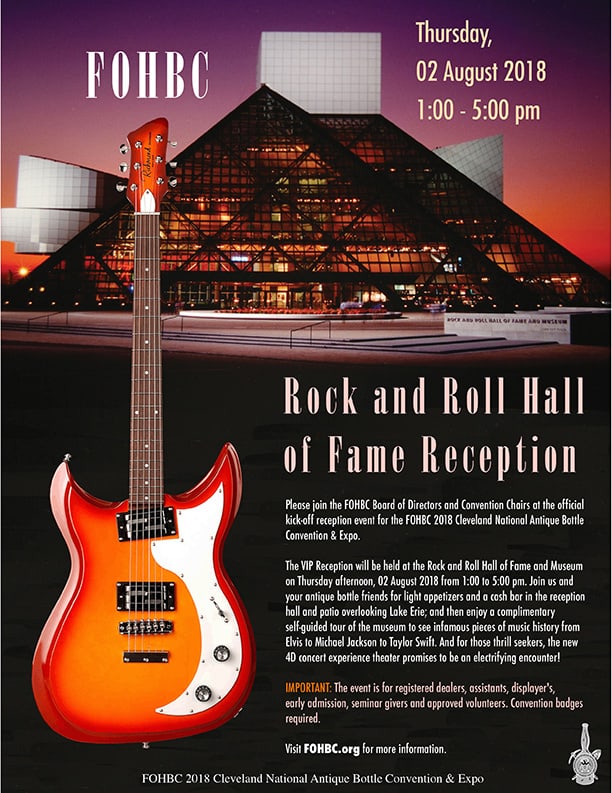 ---
BOTTLE COMPETITION
Battle of the Bottles
Leading the competition that night will be Ohio's own John Fifer and Rick Ciralli in from New England who will emcee. The three categories are Ohio Sodas, Midwestern Flasks, and Free Blown/Pattern Molded Midwest Tableware. MORE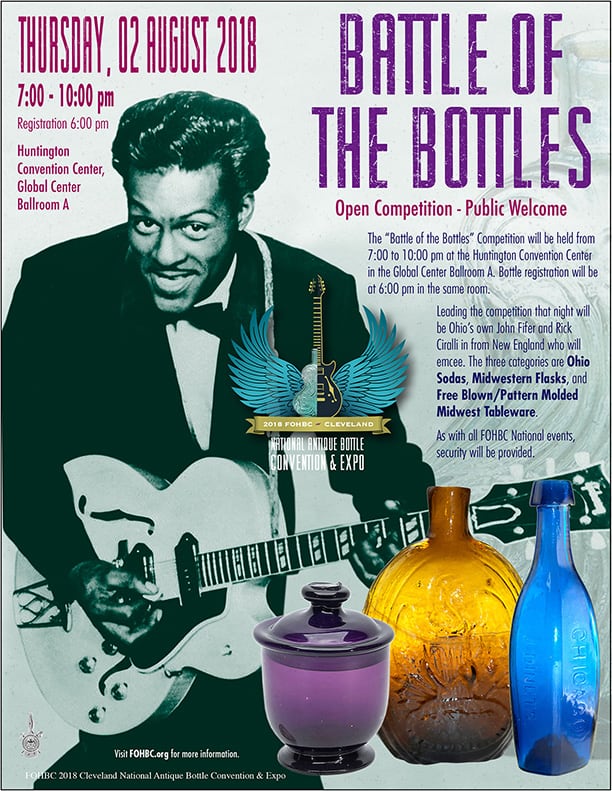 ---
SEMINARS
2018 Cleveland National Seminar Schedule, Topics & Presenters
We are truly fortunate to be able to present a variety of fascinating educational seminars at the 2018 Cleveland National Bottle Convention and Expo. We have a distinguished group of seminar presenters organized by seminar coordinator Louis Fifer.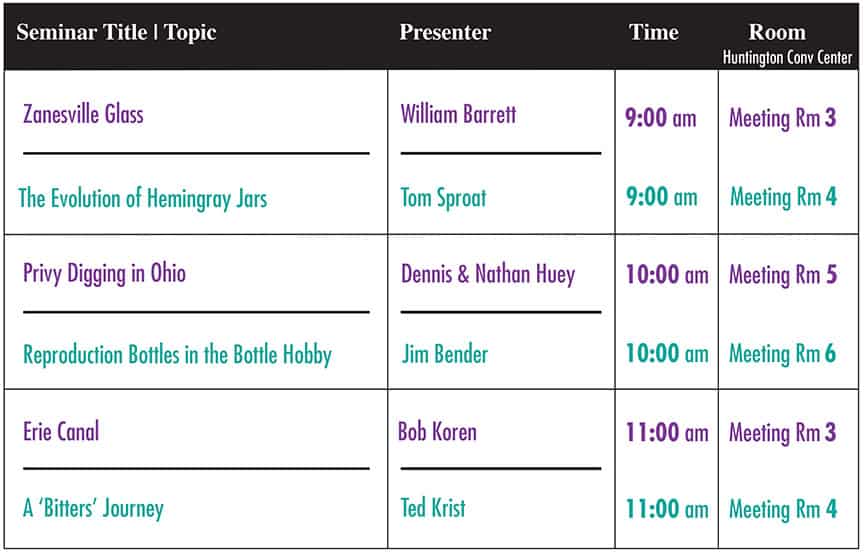 The seminars will take place on Friday, August 3rd, 2018 from 9:00 am to Noon at the Huntington Convention Center, Meeting Rooms 3 thru 6. Listed below are the seminar topics, the presenters and the location where these educational seminars will take place. Any questions concerning the FOHBC Educational Seminars can be directed to Cleveland Co-Chairs, Louis Fifer or Matt Lacy.
---
FOHBC BANQUET
Terry Kovel to speak at the FOHBC Cleveland National Banquet "Everything You Need to Know Except What and How to Buy Your Collection"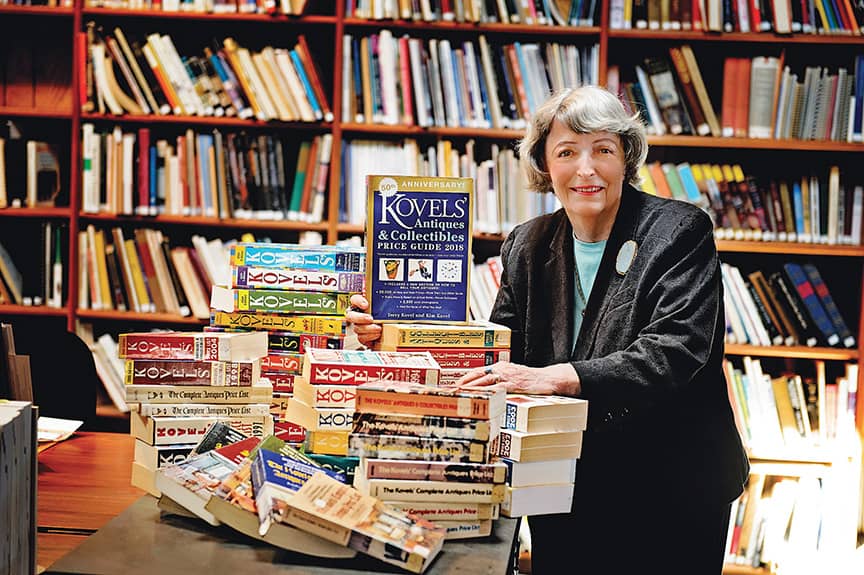 Friday, August 3rd, 6:30 pm – 8:30 pm, Marriott 2rd Floor, Salons E-H, Tickets Still Available
The FOHBC is honored and privileged to have Terry Kovel, world renowned author and collector, speak about her life's work and share stories of the changing antique hobby and markets over the years. MORE CONVENTION INFO
Terry has written 108 books about antiques and collectibles including eight that were price books on bottles when bottle collecting was really hot. She has done three television series, the last one on HGTV. Kovel's has written a monthly subscription newsletter since 1974 which is now in print and online.
---
AUCTION
Electric Auction News

 
This unforgettable event will electrify you for the upcoming bottle show weekend. Starting the Auction preview at 7:00 am, with a full window wall of natural daylight flooding the preview tables for optimal viewing, this spacious and elegant ballroom has the capacity to make this an auction for the record books. Opening gavel is at 9:00 am. MORE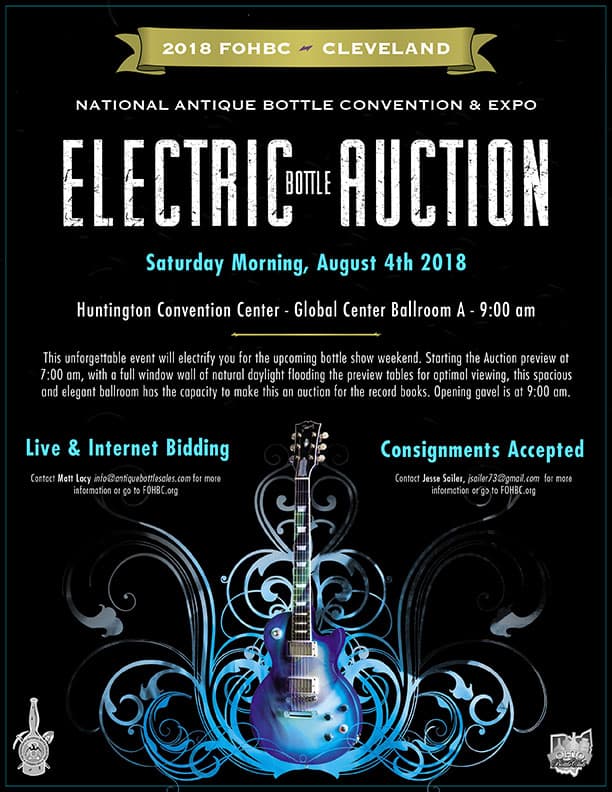 ---
ROOM HOPPING
Hotel Room Hopping News
For those who would like an old fashioned treat, this year at the FOHBC 2018 Cleveland National Antique Bottle Convention & Expo, we are bringing back a rendition of an old favorite. We're going to have some old fashioned "Room Hopping" at the Marriott Key Center Hotel just like we did before cell phones and late night auctions. Make your plans now to have a rabbit den of bottles to show off or hop from room to room in the hotel. More Info

---
Roller Coasters! – Cedar Point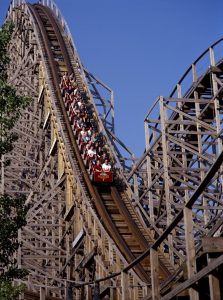 Come for the bottles and bring the family to one of the great amusement parks in the world, Cedar Point. New for 2018 is the Steel Vengeance Roller Coaster. At a height of 205 feet, a speed of 74 mph, and over a mile in length, your family will enjoy the thrill of a lifetime. Pictured is Blue Streak, an old-time wooden roller coaster built by Philadelphia Toboggan Company, Blue Streak opened to the public on May 23, 1964, and is the park's oldest roller coaster. Cedar point is less than an hour from Cleveland and should be on everyone's vacation schedule. Take in the show and all the great attractions Cleveland has to offer.
Front seat of the Steel Vengeance
Ride of the year
https://www.youtube.com/watch?v=j7uyMOS0HMU
---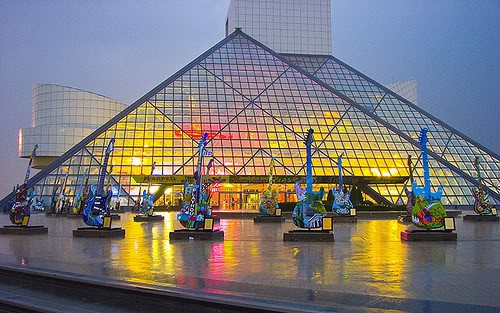 Logo Designs

for the FOHBC 2018 Cleveland National Antique Bottle Convention & Expo
25 April 2016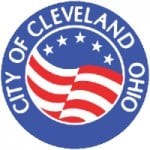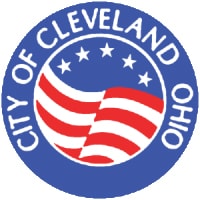 Logo concepts were presented to the FOHBC 2018 Cleveland National Antique Bottle Convention & Expo co-chairs Louis Fifer and Matt Lacy (& Elizabeth Lacy) on Sunday evening, 24 April 2016.
Every great American city has a founding father, historical landmarks and participated in our countries growth. Cleveland, Ohio is no different. What is exciting here is the transformation and revitalization of Cleveland through good infrastructure planning, diversification and investment in the arts. Cleveland is synonymous with the FOHBC Next Generation initiative.
See Concept Presentation. The presentation was received well. Concept F seemed to be the front runner after the first round.
The Cleveland co-chairs requested revisions in the Design Development phase which was presented today, 28 April 2016.
See Design Development Presentation.
The favored concept, after Design Development, is represented below along with what might be a full page advertisement in the FOHBC 2016 Sacramento National Antique Bottle Convention & Expo Souvenir Program. The Eli electric guitar,  which is made in Cleveland, where the Rock and Roll Hall of Fame is located, is married to a historical scroll flask which is sensual and lyrical in shape. The GIX-45 pint has been used in the art and is in the corset style. Mckearin thought the flask was from the Pittsburgh district. The raised upturned wings, as in a Baltimore Resurgam flask, give the design a more dramatic look. The project typography is neatly controlled beneath the design. The logo was then placed on a deckled powder blue background with a golden frame.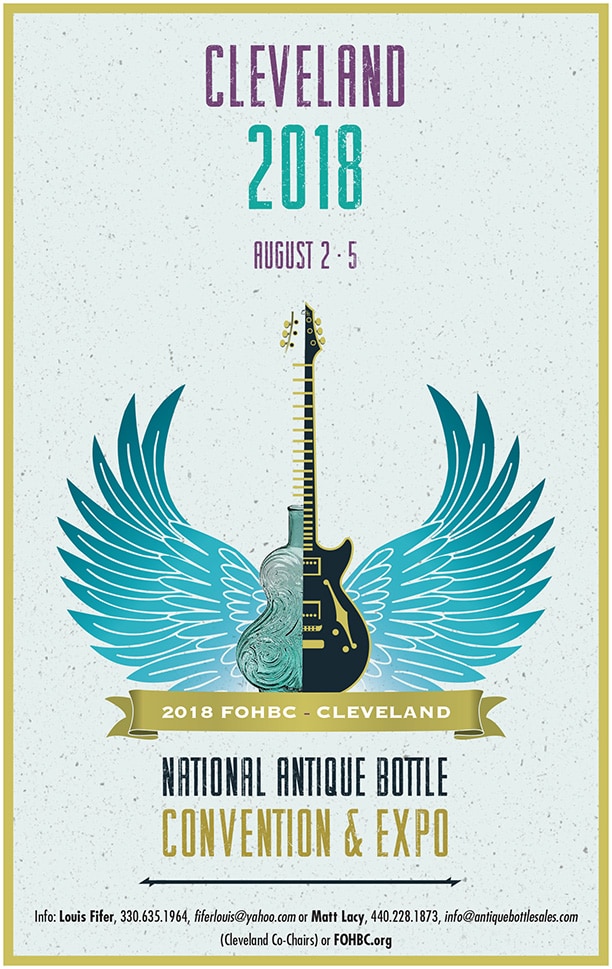 ---
PRESS RELEASE – ANNOUNCING CLEVELAND IN 2018!
Cleveland, Ohio to be the host city for the

2018

FOHBC National Antique Bottle Convention
08 January 2016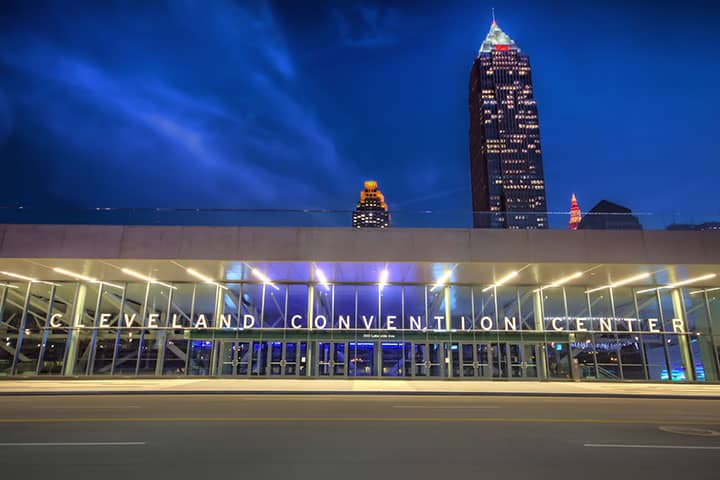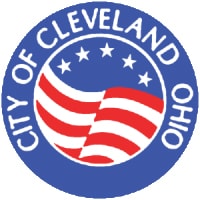 The Federation of Historical Bottle Collectors (FOHBC) is thrilled to announce the 2018 FOHBC National Antique Bottle Convention in Cleveland, Ohio on August 3rd – 5th, 2018. This mega event promises to deliver in ways we haven't seen before!
The Convention will take place at the Cleveland Convention Center in beautiful downtown Cleveland and the Cleveland Marriott Downtown at Key Center will be our host hotel next door to the Convention Center. The newly transformed downtown Cleveland is sure to deliver on a one of a kind experience featuring attractions such as the Rock 'n' Roll Hall of Fame, Great Lakes Science Center, Horseshoe Casino, Metroparks Zoo and Westside Market that are sure to entice collectors of all ages. See Video.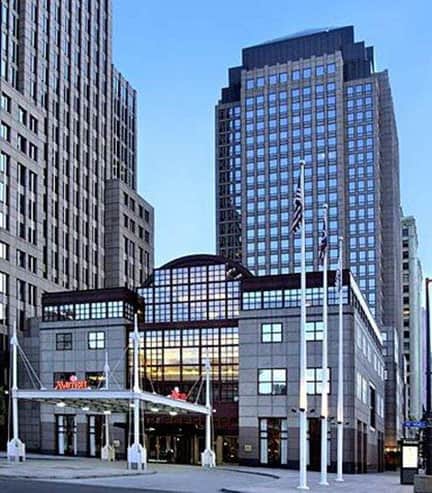 The revitalized Marriott Key Center Hotel is sure to exceed expectations with their sleek furnishings, stunning views of Lake Erie and breathtaking skylines. Rooms are $149 per night for the standard room and are located steps from the Convention Center.
Stay tuned to the FOHBC website for valuable updates and the link to make your hotel room reservation along with information on contracts (available summer 2017), events, seminars, bottle competition, live auction, banquet, membership breakfast and displays.
We're looking forward to making our destination Cleveland in 2018!
Louis Fifer
FOHBC Conventions Director