Support your local shows!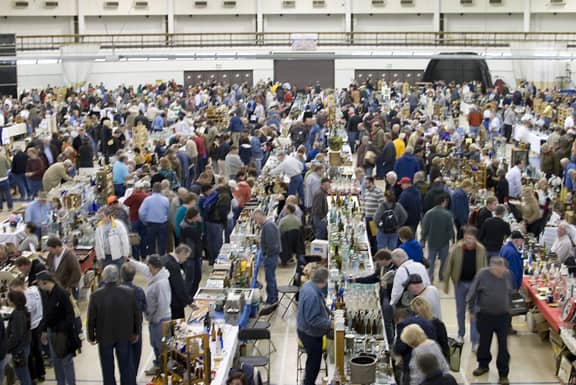 Please send us any show information, flyer art, additions or corrections to Ferdinand Meyer V , fmeyer@fohbc.org so we can keep this list up to date.
Thanks!
---
Antique Bottle Show Calendar
Click for Insulator Show Calendar
June 2016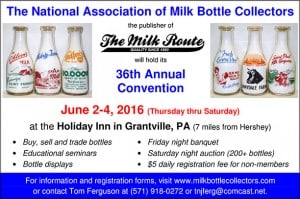 02-04 June 2016 (Thursday – Saturday) Grantville, Pennsylvania – The National Association of Milk Bottle Collectors will hold its 36th Annual Convention at the Holiday Inn in Grantville, Pennsylvania (7 miles from Hershey), Info: Tom Ferguson, 571.918.0272 or tnjferg@comcast.net, MilkCollectors.com, See Press Release, FOHBC Member Club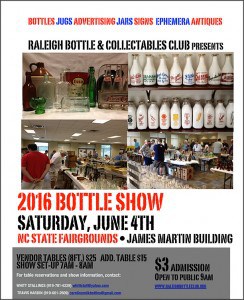 04 June 2016 (Saturday) Raleigh, North, Carolina – Raleigh Bottle & Collectibles Club presents their 2016 Bottle Show on Saturday, June 4th at the NC State Fairgrounds – James Martin Building, $3 admission, Open to the public at 9:00 am. For table reservations and show information contact: Whitt Stallings, 919.781.6339, whittstall@yahoo.com or Travis Hardin, 919.601.2609, carolinamilkbottles@gmail.com, RaleighBottleClub.org, FOHBC Member Club
05 June 2016 (Sunday) Ballston Spa, New York – The National Bottle Museum presents the Annual Saratoga Springs Show & Sale, A larger venue for 2016 will be held in two, well-lighted buildings, plus the outdoor green space! 9:00 am to 2:30 pm at the Saratoga County Fairgrounds, 162 Prospect Street, Ballston Spa, New York, Info: NATIONAL BOTTLE MUSEUM, 76 Milton Avenue, Ballston Spa, New York 12020, 518.885.7589, nbm@nycap.rr.com, Phil Bernnard, 518.429.7641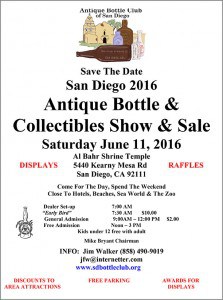 11 June 2016 (Saturday) San Diego, California – San Diego 2016 Antique Bottle & Collectibles Show & Sale at the Al Bahr Shrine Temple, 5440 Kearny Mesa Road, San Diego, California 92111, Come For The Day, Spend The Weekend, Close To Hotels, Beaches, Sea World & The Zoo, Dealer Set-up: 7:00 am "Early Bird" 7:30 am, $10, General Admission: 9:00 am – 12:00 Noon, $2, Free Admission Noon – 3:00 pm, Kids under 12 free with adult, Mike Bryant, Chairman, Info: Jim Walker 858.490.9019, jfw@internetter.com, www.sdbottleclub.org, FOHBC Member Club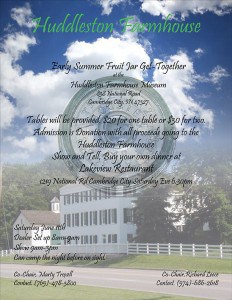 11 June 2016 (Saturday) Cambridge City, Indiana – Huddleston FarmhouseEarly Summer Fruit Jar Get-Together. All Proceeds go to the Huddleston Farmhouse Museum, 838 National Road, Cambridge City, Indiana 47327. Dealer set-up 8:00 am – 9:00 am, Show 9:00 am to 3:00 pm, $20 for one table, $30 for 2 tables, Contact Marty Troxell 765.478.3800 or co-chair Richard Leece, 574.686.2618. More info at Huddleston Farmhouse Fruit Jar Get-Together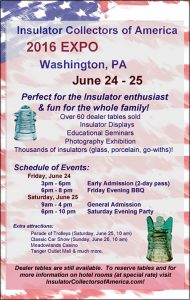 24 & 25 June 2016 (Friday – Saturday) Washington, Pennsylvania – Insulator Collectors of America – 2016 Expo will be held June 24 & 25 at the Washington County Fairgrounds in Washington, Pennsylvania. The two-day venue, which is hosted by the Western Reserve Insulator Club, will include over seventy sales tables of insulators, antique bottles and related collectibles. Special events will include educational seminars & displays and tours of the adjacent antique trolley museum. For more details, times and directions, visit the website: Insulator Collectors of America or call John at 216.392.3622.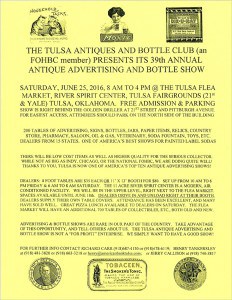 25 June 2016 (Saturday) Tulsa, Oklahoma – The Tulsa Antiques And Bottle Club's 39th Annual Bottle and Antique Advertising Show from 8:00 am to 4:00 pm at the Tulsa Flea Market in the River Spirit Center, Tulsa Fairgrounds, 21st Street and Pittsburgh Avenue, Tulsa, Oklahoma. Free admission, no early buyers.  Dealer setup Friday from 10:00 am to 6:00 pm and Saturday from 6:00 am to 8:00 am. 200 show tables plus a 700 table flea market. Information: Richard Carr, 918.687.4150 or 918.478.6119 or Henry Tankersley, 918.481.3820 or 918.663.3218 or henry@americanbanktulsa.com, FOHBC Member Club
July 2016
16 July 2016 (Saturday) Richmond, Rhode Island – The Little Rhody Bottle Club Tailgate Swap Meet, 9:00 am to 3:00 pm. Free set-up for members and potential new members. Free coffee, donuts and pizza for participants. Bring your own tables! Show Address: Jules Antique Center, 320 Kingstown, Richmond, Rhode Island (3 miles East of Route #95 on Route #138), Contact Info: William Rose, 508.880.4929, FOHBC Member Club
16 & 17 July 2016 (Saturday & Sunday) Adamstown, Pennsylvania – 16th Annual Shupps Grove Bottle Festival, Saturday & Sunday, 6:00 am to dusk, early buyers Friday 3:00 pm. At the famous "Shupp's Grove", 1686 Dry Tavern Road, Denver, Pennsylvania 17517, Contact: Steve Guion, 717.626.5557, affinityinsurance1@windstream.net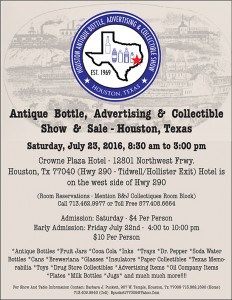 22 & 23 July 2016 (Friday & Saturday) Houston, Texas – Houston Antique Bottle, Advertising & CollectibleShow & Sale at the Crowne Plaza Hotel – 12801 Northwest Frwy. Houston, Texas 77040 (Hwy 290 – Tidwell/Hollister Exit) Hotel is on the west side of Hwy 290, Open to public on Saturday, July 23, 2016, 8:30 am to 3:00 pm, Admission: $4, Early Admission: Friday July 22nd – 4:00 to 10:00 pm, $10 per person, For show and table information contact: Barbara J. Puckett, 907 W. Temple, Houston, Texas 77009 713.862.1690 (home) or 713.409.9940 (cell) Bpuckett77009@Yahoo.com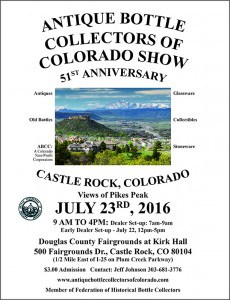 23 July 2016 (Saturday) Castle Rock, Colorado – 51st Anniversary Antique Bottle Collectors of Colorado Show at the Douglas County Fairgrounds at Kirk Hall. 500 Fairgrounds Drive, Castle Rock, Colorado 80104, $3 Admission, 9:00 am to 4:00 pm, Dealer set-up 7:00 am – 9:00 am, Early Dealer set-up on 22 July 12:00 pm to 5:00 pm. Info contact: Jeff Johnson 303.681.3776. Antique Bottle Collectors of Colorado, FOHBC Member Club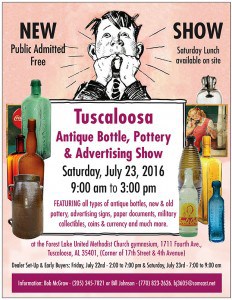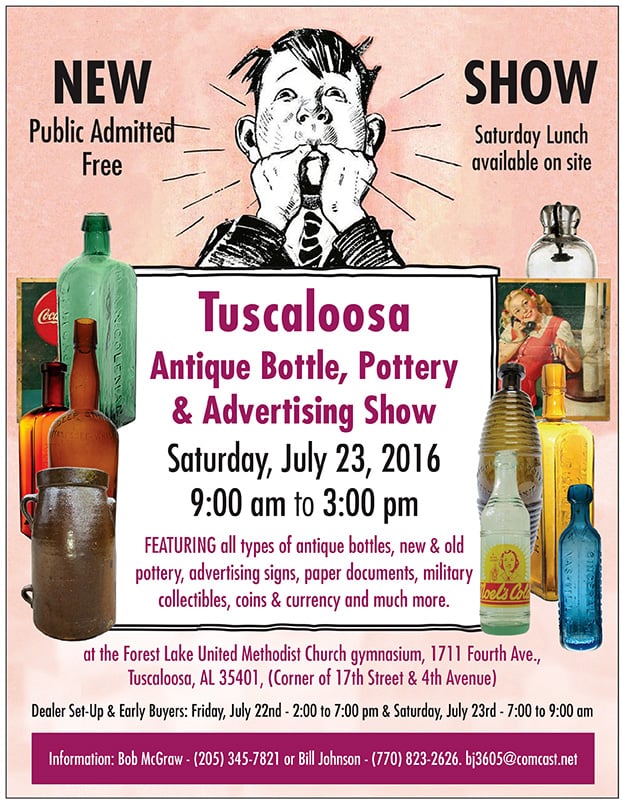 23 July 2016 (Saturday) Tuscaloosa, Alabama – NEW SHOWTuscaloosa Antique Bottle, Pottery & Advertising Show, Saturday, July 23, 2016, 9:00 am to 3:00 pm, at the Forest Lake United Methodist Church gymnasium, 1711 Fourth Avenue, Tuscaloosa, Alabama 35401, (Corner of 17th Street & 4th Avenue), Dealer Set-Up & Early Buyers: Friday, July 22nd – 2:00 to 7:00 pm & Saturday, July 23rd – 7:00 to 9:00 am, Public admitted FREE, Saturday Lunch available on site, Information: Bob McGraw – 205.345.7821 or Bill Johnson – 770.823.2626. bj3605@comcast.net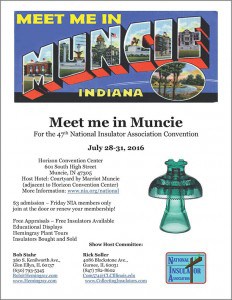 29 – 31 July 2016 (Friday – Sunday) Muncie, Indiana – 47th Annual National Insulator Association (NIA) Convention and Show (Friday Members only – you can join at the door) 135+ Dealer tables, 25 Displays. This year it will be held at the Horizon Convention Center, Muncie, Indiana 47305. For hotel reservations call the new Courtyard by Marriott adjacent to the Horizon Center and mention NIA for special rates: 765.287.8550. For more show information visit: www.nia.org/national Hosts: Bob Stahr, 630.793.5345 or email: bob@hemingray.com and Rick Soller: 847.782.8602, email: com574@clcillinois.edu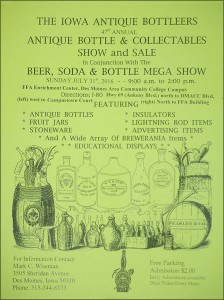 31 July 2016 (Sunday) Ankeny, Iowa – 47th Annual Iowa Antique Bottleers Show and Sale, in conjunction with the "Beer, Soda & Bottle Collectibles Mega Show" at the FFA Enrichment Center, Des Moines Area Community College Campus, 2006 S. Ankeny Blvd., Ankeny, Iowa, Admission $2 (9:00 am to 2:00 pm) Contact: Mark C. Wiseman, 3505 Sheridan Avenue, Des Moines, Iowa 50310-4557, cell: 515.344.8333, markcwiseman@msn.com, FOHBC Member Club
August 2016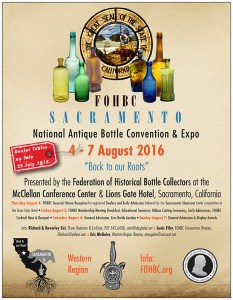 04 – 07 August 2016 (Thursday – Sunday) Sacramento, California – FOHBC 2016 National Antique Bottle Convention & Expo – Western Region at the McClellan Conference Center, Host Hotel: Lions Gate Hotel. Room Reservations – Show Information: Richard & Beverley Siri, Show Chairman & Co-Chair, 707.542.6438, rtsiri@sbcglobal.net or or Eric McGuire, Western Region Director, etmcguire@comcast.net Contracts: Warren Friedrich, 530.271.5757, warrenls6@sbcglobal.net. More info at FOHBC.org, FOHBC National Convention – Western Region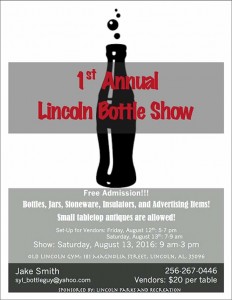 13 August 2016 (Saturday) Lincoln, Alabama – 1st AnnualLincoln Bottle Show (New Show) at the Old Lincoln Gym, 181 Magnolia Street, Lincoln, Alabama 35096, Saturday 9:00 am – 3:00 pm, No Early admission, Set-up: Friday August 12th 5:00 pm – 7:00 pm and/or Saturday August 13th 7:00 am – 9:00 am, Free to Public, Vendors $20 a table, Lincoln Parks and Recreation, Contact: Jake Smith, 29 Water Tank Drive, Talladega Alabama 35160, 256.267.0446, syl_bottleguy@yahoo.com
15 – 21 August 2016 (Monday – Sunday) Bouckville, New York – 45th Annual Madison-Bouckville Antique Show, Outdoor antiques and collectibles including two huge bottle tents! Over 2,000 dealers and vendors located on scenic Route 20, Bouckville, New York, Contact: Jim Burns, 315.527.3269, Jim Bartholomew, 585.705.8106
21 August 2016 (Sunday) Poughkeepsie, New York – Hudson Valley Bottle Club 29th Annual Mid Hudson Bottle Show & Sale, 9:00 am to 2:30 pm; early buyers 8:00 am, Show Address: Poughkeepsie Elks Lodge 275, 29 Overocker Road, Poughkeepsie, New York, Contact: Mike Stephano, 27 Rogers Road, Hyde Park, New York 12538, 845.233.4340, mjsantique@aol.com FOHBC Member Club
September 2016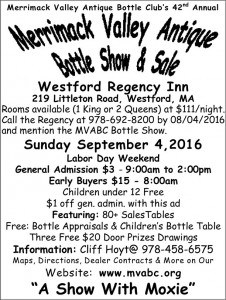 04 September 2016 (Sunday) Westford, Massachusetts – The Merrimack Valley Antique Bottle Club's 42nd Annual Show & Sale, Sunday, September 4, 2016, 9:00 am – 2:00 pm, early buyers 8:00 am, at the Westford Regency Inn, 219 Littleton Road (Route 110), Westford MA. Info: Cliff Hoyt: 978.458.6575, email choyt48@comcast.net or Maureen Crawford, 978.897. 7327. Visit Web Site, FOHBC Member Club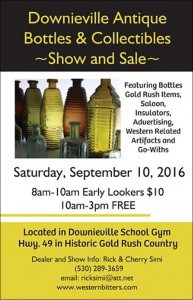 10 September 2016 (Saturday) Downieville, California – Downieville Antique Bottles & Collectibles Show at the Downieville School Gym, Downieville, California 95936, One Day Show. 8:00 am – 10:00 am, Early Lookers for $10, FREE 10:00 am – 3:00 pm, Set up: Friday, 3:00 – 5:00 pm, Saturday 7:00 am, Downieville Antique Bottle Group, www.westernbitters.com, Contact: Rick & Cherry Simi, Organizers, PO Box 115, Downieville, California 95936, 530.289.3659, ricksimi@att.net, FOHBC Member Club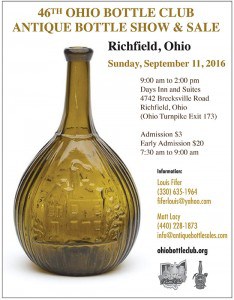 11 September 2016 (Sunday) Richfield, Ohio – 46th Annual Ohio Bottle Club Show & Sale at the Days Inn and Suites, 4742 Brecksville Road, Richfield, Ohio (Ohio Turnpike Exit 173), 9:00 am to 2:00 pm, Set-up: 7:30 am to 9:00 am, Early Admission: 7:30 am to 9:00 am, Early Admission $20, Regular admission $3 (9:00 am to 2:00 pm). Info: Louis Fifer, 604 Topaz Lane Brunswick, Ohio 44212, 330,635.1964, fiferlouis@yahoo.com or Matt Lacy, 440.228.1873, info@antiquebottlesales.com website: ohiobottleclub.org, Click for Contract Info, FOHBC Member Club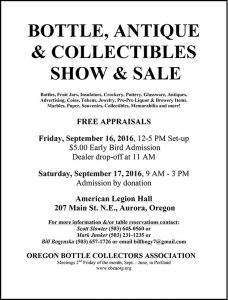 16 & 17 September 2016 (Friday & Saturday) Aurora, Oregon – Bottle, Antique & Collectibles Show & Sale, Bottles, Fruit Jars, Insulators, Crockery, Pottery, Glassware, Antiques, Advertising, Coins, Tokens, Jewelry, Pre-Pro Liquor & Brewery Items, Marbles, Paper, Souvenirs, Collectibles, Memorabilia and more!, Free Appraisals, Friday, September 16, 2016, 12:00 – 5:00 pm set-up, $5 Early Bird Admission, Dealer drop-off at 11:00 am, Saturday, September 17, 2016, 9:00 am – 3:00 pm, Admission by donation, American Legion Hall, 207 Main St. N.E., Aurora, Oregon, For more information and/or table reservations contact: Scott Slowter: 503.645.0560 or Mark Junker: 503.231.1235 or Bill Bogynska: 503.657.1726 or email billbogy7@gmail.com, Oregon Bottle Collectors Association, Meetings 2nd Friday of the month, Sept. – June, in Portland, www.obcaorg.org, FOHBC Member Club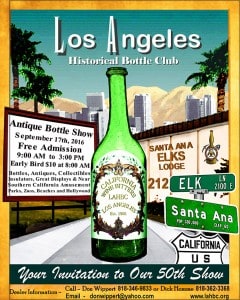 17 September 2016 (Saturday) Santa Ana, California – Los Angeles Historical Bottle Club's 50th Annual Antique Bottle, Fruit Jar, Antiques & Collectibles Show & Sale, 9:00 am to 3.00 pm, Early Bird $10 at 8:00 am, Free General Admission! Santa Ana Elks Lodge, 212 Elk Lane, Santa Ana, California 92701, Contact: Don Wippert 818.346.9833, donwippert@yahoo.com or Dick Homme, 818.362.3368, Los Angeles Historical Bottle Club, FOHBC Member Club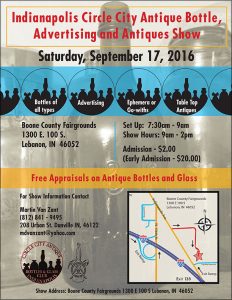 17 September 2016 (Saturday) Indianapolis, Indiana – Indianapolis Circle City Antique Bottle, Advertising and Antiques Show, Boone County Fairgrounds, 1300 E. 100th S, Lebanon, Indiana, 46052, Show hours: 9:00 am to 2:00 pm, Set-up 7:30 to 9:00 am, Admission $2, Early Admission: $20.00, Show information & contact: Martin Van Zant, 208 Urban Street, Danville, Indiana 46122, 812.841.9495, mdvanzant@yahoo.com, FOHBC Member Club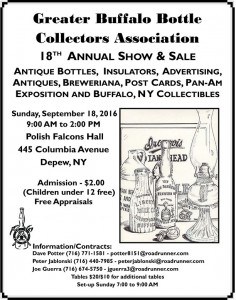 18 September 2016 (Sunday) Depew, New York – 18th Greater Buffalo Bottle Collectors Association Annual Show and Sale at the Polish Falcons Hall, 445 Columbia Avenue, Depew, New York 14043, Sunday 9:00 am to 2:00 pm, Set-up: 7:00 am to 9:00 am, Cost of admission: $2, Children under 12 free, Greater Buffalo Bottle Collectors Association, gbbca.org, Contact: Joe Guerra, Secretary, 29 Nina Terrace, West Seneca, New York 14224, 716.674.5750, jguerra3@roadrunner.com, FOHBC Member Club
24 September 2016 (Saturday) Richmond, Rhode Island – The Little Rhody Bottle Club tailgate swap meet, 9:00 am to 3:00pm. Free set up for members and potential new members. Free coffee, donuts and pizza for participants. Bring your own tables! Show Address: Jules Antique Center, 320 Kingstown, Richmond, Rhode Island (3 miles East of Route #95 on Route #138), Contact Info: William Rose, 508.880.4929, FOHBC Member Club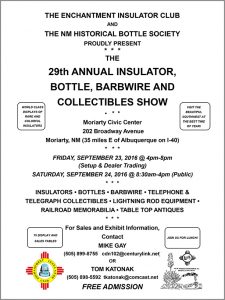 24 September 2016 (Saturday) Moriarty, New Mexico – 29th Enchantment Insulator Club/New Mexico Historical Bottle Society 29th Annual Insulator, Bottle, Barbwire and Collectibles Show and Sale at the Moriarty Civic Center, 202 South Broadway, Moriarty, New Mexico 87035, Saturday, 8:30 am to 4:00 pm, Early admission: Friday 4:00 – 8:00 pm except for dealers, displayers, and helpers who get in free. Dealer setup & trading Friday 4:00 – 8:00 pm & Saturday 7:30 – 8:30 am, Early admission $10 Friday, free on Saturday, Enchantment Insulator Club/New Mexico Historical Bottle Society, Contact: Michael Gay, EIC President & Show Chairman, 5516 Kachina NW, Albuquerque, New Mexico 87120, 505.480.0085, cdn102@centurylink.net
October 2016
01 October 2016 (Saturday) Richmond, Virginia – Richmond VA 45th Antique Bottle Show and Sale, 9:00 am – 3:00 pm, $3, Early Admission 7:30 am $10 at the Chesterfield County Fairgrounds, 10300 Courthouse Road, Chesterfield, Virginia 23832, Info: RichBottleClub@comcast.net or Marvin Croker, 804.275.1101 or Ed Faulkner 804.739.2951, FOHBC Member Club
02 October 2016 (Sunday) Chelsea, Michigan – Huron Valley Bottle and Insulator Club 40th Annual Show & Sale, 9:00 am to 3:00 pm, Admission $3 for adults, children 16 and under, Free. Show Address: Comfort Inn Conference Center, 1645 Commerce Park Drive next to the Comfort Inn, Chelsea, Michigan (Exit 159 off I-94), Contact Info: Mike Bruner, abbott4girl@sbcglobal.net or Rod Krupka, 248.627.6351, rod.krupka@yahoo.com FOHBC Member Club
08 October 2016 (Saturday) Coventry, Connecticut – Southern Connecticut Antique Bottle Collector Association's 45th Annual Show, 8:00 am to 1:00 pm., Show Address: The grounds of the historic Coventry Glass Works, 289 North River Road, Coventry, Connecticut 06238 (corner of Rt. 44 & North River Rd) Contact Info: Bob, 203.938.3879, rdsrla@optonline.net
16 October 2016 (Sunday) Findlay, Ohio – Findlay Antique Bottle Club's 40th Annual Antique Bottle & Collectibles Show & Sale, 9:00 am to 2:00 pm; early bird Sunday 7:00 am – $10. From I-75, take exit #157, follow signs for Rt. 12, approx. 5 miles. Website: Findlay Antique Bottle Club, Show Address: The Sterling Center, 4570 Fostoria Avenue, Findlay (behind the Humane Society). Contact Info: Fred Curtis, 419.424.0486, finbotclub@gmail.com FOHBC Member Club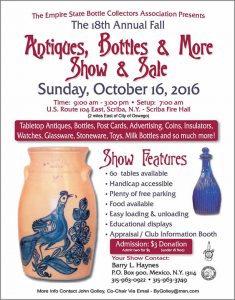 16 October 2016 (Sunday) East Scriba, New York – The Empire State Bottle Collectors Association presents the 18th Annual Fall Antiques, Bottles & More Show & Sale, 9:00 am to 3:00 pm; Setup: 7:00 am, Scriba Fire Hall, U.S. Route 104, East Scriba, New York, 2 miles East of City of Oswego. Admission $3 donation, Contact: Barry L. Haynes, P.O. Box 900, Mexico, New York 13114, 315.963.0922 or 315.963.3749, FOHBC Member Club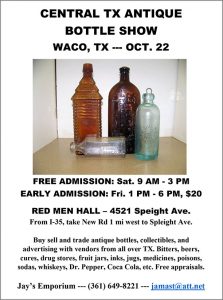 21-22 October 2016 (Friday & Saturday) Waco, Texas – NEW SHOW 1st Annual Central Texas Antique Bottle Show at Red Men Hall, 4521 Speight Avenue, Waco, Texas 76711, Saturday 9:00 am – 3:00 pm, Early admission Friday 1:00 pm – 6:00 pm, Set up: Friday Noon – 6:00 pm, Cost of admission for show & early admission: Sat Free Admission, Friday $20. Contact: Jay Kasper: Jay's Emporium, 305 E. 12th Street, Shiner, Texas 77984, 361.649.8221, jamast@att.net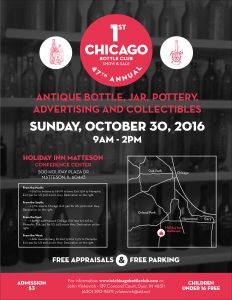 30 October 2016 (Sunday) Matteson, Illinois – 47th Annual 1st Chicago Bottle Club Show & Sale at the Holiday Inn Matteson Conference Center, 500 Holiday Plaza Drive, Matteson, Illinois 60443, Sunday 9:00 am – 2:00 pm, No early admission, Dealer set-up will begin at 7:15 am, $3 Admission, Children under 16 Free, 1st Chicago Bottle Club, Contact: John Vlahovich, Show Chairman, 139 Concord Court, Dyer, Indiana 46311, 630.390.9679, jvlahovich@att.net, FOHBC Member Club
November 2016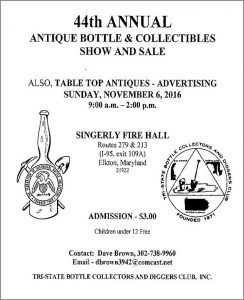 06 November 2016 (Sunday) Elkton, Maryland – The Tri-State Bottle Club's 44th Antique Bottle & Collectibles Show (Tabletop Antiques) at the Singerly Fire Hall, Route 279 & 213 (I-95, Exit 109 A), Elkton, Maryland 21922, 9:00 am to 2:00 pm, General Admission: $3, Children Under 12 Free, Contact: Dave Brown, 302.738.9960, email: dbrown3942@comcast.net, FOHBC Member Club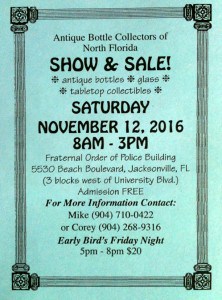 12 November 2016 (Saturday) Jacksonville, Florida – 49th Antique Bottle Collectors of North Florida Show & Sale at the Fraternal Order of Police Building, 5530 Beach Boulevard, Jacksonville, Florida 32207-5161, 8:00 am to 3:00 pm, Early Admission is on Friday from 5:00 pm to 8:00 pm, Set-up on Friday: 2:00 pm until 8:00 pm and Saturday starting at 7:00 am, Cost of admission: FREE on Saturday and $20 for Early admission of Friday, Contact: Corey Stock, Assistant to Show Chairman, 13533 Mandarin Road, Jacksonville, Florida 32223, 904.268.9316, stock1866@yahoo.com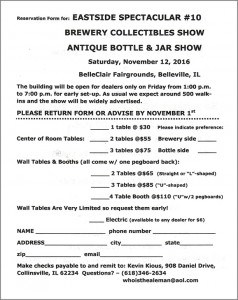 12 November 2016 (Saturday) Belleville, Illinois – Eastside Spectacular #10 Brewery Collectibles Show – Antique Bottle & Jar Show at the BelleClair Fairgrounds. Questions: Kevin Klous, 908 Daniel Drive, Collinsville, Illinois, 62234. Questions: 618.346.2634, whoisthealeman@aol.com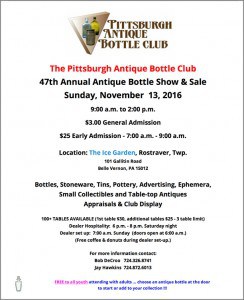 13 November 2016 (Sunday) Belle Vernon, Pennsylvania – Pittsburgh Antique Bottle Club 47th Annual Show at the Rostraver Ice Garden, 101 Gallitin Road, Belle Vernon, Pennsylvania 15012, Sunday, 9:00 am to 2:00 pm, Early admission: Sunday, 7:00 am to 9:00 am, Set-up: Sunday, 7:00 am, General admission: $3, Early admission: $25, Pittsburgh Antique Bottle Club, Contact: Bob DeCroo, Treasurer, 694 Fayette City Road, Fayette City, Pennsylvania 15438, 724.326.8741, FOHBC Member Club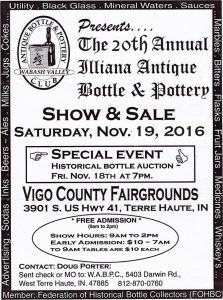 19 November 2016 (Saturday) Terre Haute, Indiana – The 20th Annual Illiana Antique Bottle & Pottery Show & Sale at the Vigo County Fairgrounds, 3901 S. US Highway 41, Terre Haute, Indiana, Saturday, Free Admission 9:00 am to 2:00 pm, Early Admission $10 at 7:00 am. Contact Doug Porter, 5403 Darwin Road, West Terre Haute, Indiana 47885, 812.870.0760, Historical Bottle Auction on Friday night, FOHBC Member Club
December 2016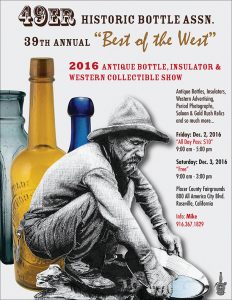 02 & 03 December 2016 (Friday & Saturday) Roseville, California – 49er Historic Bottle Assn. 39th Annual "Best Of The West" 2016 Antique Bottle, Insulator & Western Collectible Show with antique bottles, insulators, western advertising, period photographs, saloon & gold rush relics and so much more… at the Placer County Fairgrounds, 800 All America City Blvd., Roseville, California, Friday: Dec. 2, 2016 "All Day Pass: $10", 9:00 am – 5:00 pm, Saturday: Dec. 3, 2016, "Free" 9:00 am – 3:00 pm, Info: Mike – 916.367.1829, FOHBC Member Club
January 2017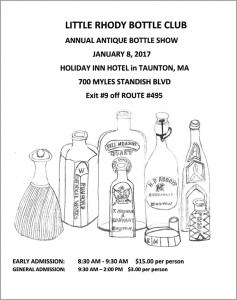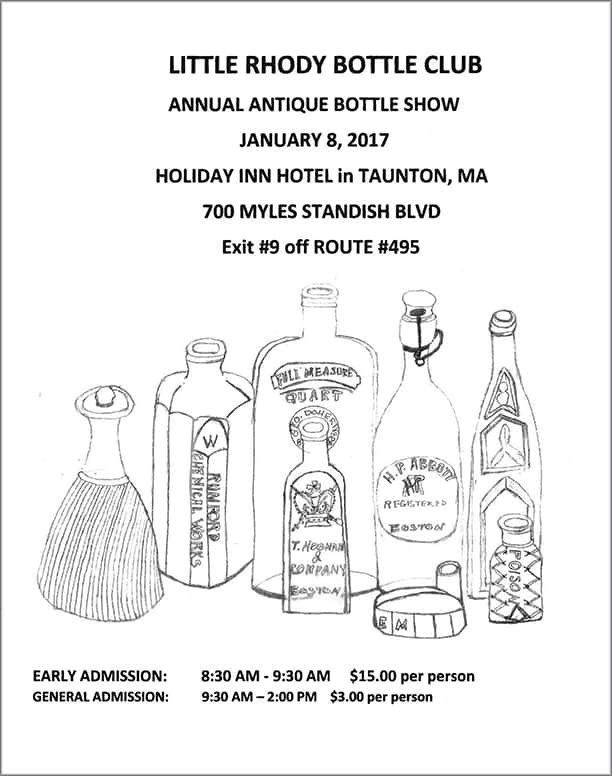 08 January 2017 (Saturday) Taunton, Massachusetts – The Little Rhody Bottle Club Annual Antique Bottle Show, Holiday Inn Hotel, 700 Myles Standish Blvd., Exit #9 off of Route #495, Early Admission: 8:30 am – 9:30 am, $15 per person, General Admission: 9:30 am – 2:00 pm, $3 per person. The Little Rhody Bottle Club, FOHBC Member Club
April 2017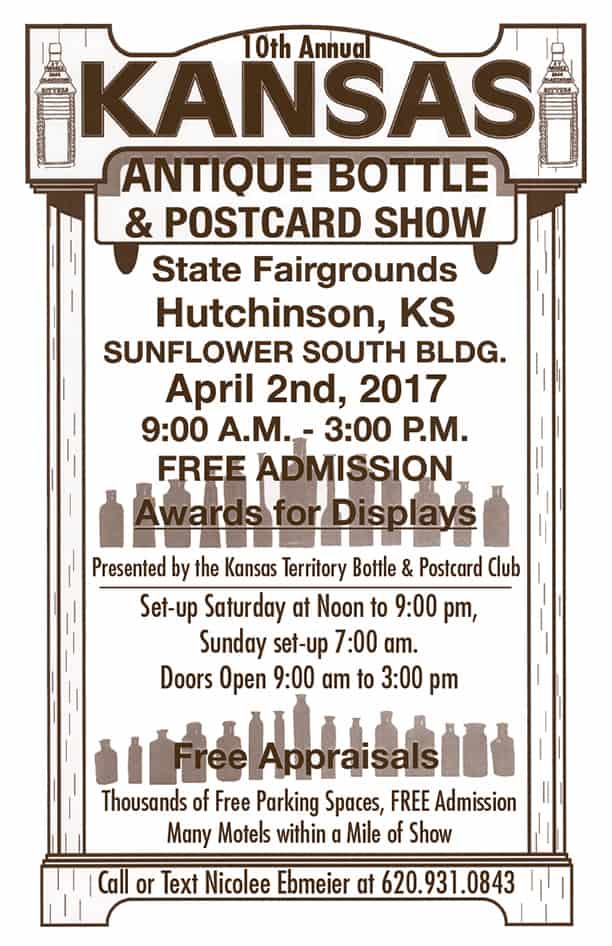 02 April 2017 (Sunday) Hutchinson, Kansas – 10th Annual Kansas Antique Bottle & Postcard Show, State Fairgrounds, Sunflower South Building, Hutchinson, Kansas, 9:00 am – 3:00 pm, Free Admission, Set-up Saturday at Noon to 9:00 pm. Info: Call or text Nicolee Ebmeier, 620.931.0843, FOHBC Member Club
May 2017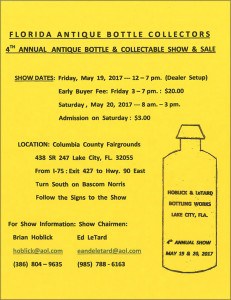 19 & 20 May 2017 (Friday & Saturday) Lake City, Florida – The Florida Antique Bottle Collector 4th Annual Antique Bottle & Collectable Show and Sale, Saturday, May 20th (8:00 am – 3:00 pm), Dealer set-up Friday, May 19 at Noon, Early Buyers Friday, May 19th (3:00 pm – 7:00 pm), Columbia County Fairgrounds, Exit 427 off I-75 South, Hwy 90 East, Lake City, Florida, Admission $3, Information: Brian Hoblick, 386.804.9635, Email: hoblick@aol.com or Ed LeTard 985 .788.6163, Email: eandeletard@aol.com
August 2017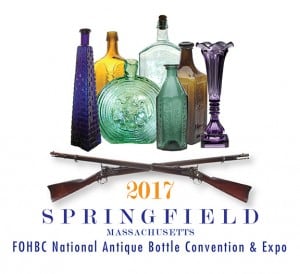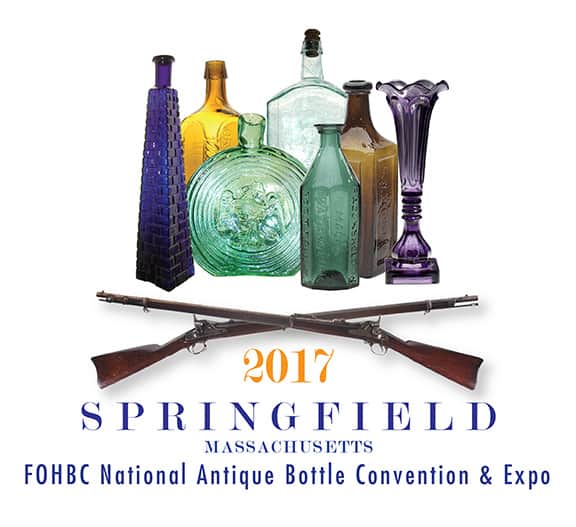 03 – 06 August 2017 (Thursday – Sunday) Springfield, Massachusetts – FOHBC 2017 National Antique Bottle Convention & Expo – Northeast Region at the MassMutual Center, Host Hotel: Sheraton Springfield Monarch Place hotel. Show Information: Jim Bender, Show Co-Chair, 518.673.8833, jim1@frontiernet.net or Bob Strickhart, Show Co-Chair, strickhartbob@aol.comVisit Web Page, FOHBC National Convention – Northeast Region
August 2018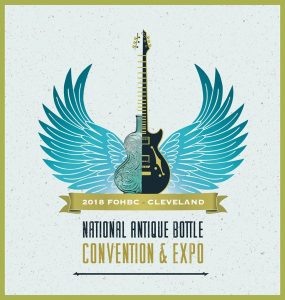 02 – 05 August 2018 (Thursday – Sunday) Cleveland, Ohio – FOHBC 2018 National Antique Bottle Convention & Expo – Midwest Region at the Cleveland Convention Center, Host Hotel: Cleveland Marriott Downtown at Key Center, Show Information: Louis Fifer, Show Co-Chair and FOHBC Conventions Director, 330.635.1964, fiferlouis@yahoo.com or Matt Lacy, Show Co-Chair, FOHBC Midwest Region Director, 440.228.1873, info@antiquebottlesales.com, Visit Web Page, FOHBC National Convention – Midwest Region