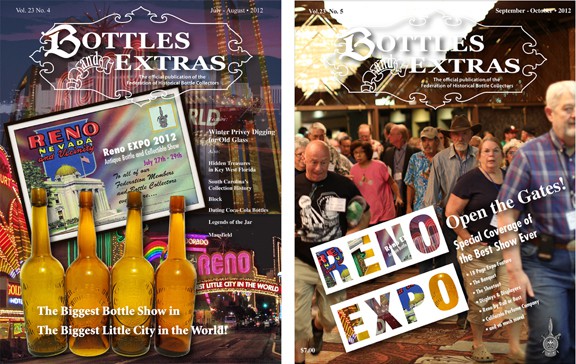 With record speed and great teamwork from the Bottles and Extras Editorial Team, (Martin Van Zant, Bill Baab, Alan DeMaison, Randy Selenak, Dave Maryo, Gene Bradberry & Ferdinand Meyer V) we are pleased to announce that we were able to assemble a great September | October 2012 issue that is being finished and bound at the printer this weekend. This was a challenge based on the Reno Expo date and an impending publishing deadline. We did not want the Reno Expo articles in the November | December issue. Here are a few teaser opening spreads to get you fired up!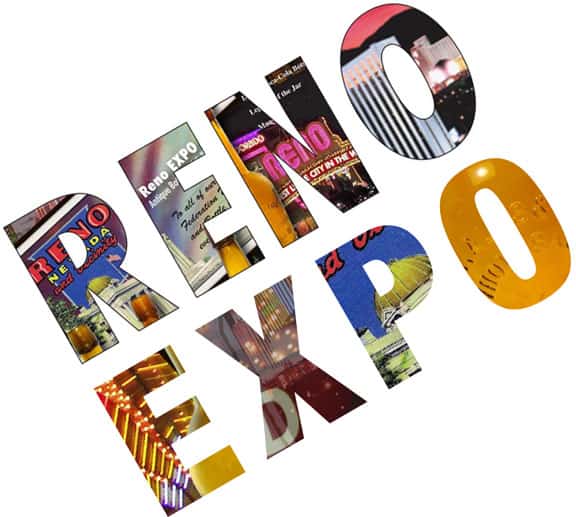 The FOHBC membership is up dramatically of late with close to 100 new members signed up at Reno and since. PLEASE become a member of the FOHBC. We are stronger as a group.
Bottles and Extras
Vol. 23 No. 5 | September – October 2012 | No. 203
Features: The California Perfume Company – Part 1 Russell L. Mills 10 Feature: Reno Expo 2012 Ferdinand Meyer V 18 Recent Auction Results Norman Heckler & Co. 36 Reno: The FOHBC Banquet Ferdinand Meyer V 38 Reno: The Shootout Pam Selenak 42 Reno: The Expo Displays and Displayers Bob Ferraro 48 Henry's Bottling Works in What Cheer, Iowa Bill Baab 57 Reno: By Rail or Bust Alan DeMaison 58
Vignettes: Shards of Wisdom 4 In Remembrance 6
Departments: FOHBC Business & News | FOHBC Officer Listing 2012-2014 2 President's Message 3 Classified Ads & Ad Rate Info 64 FOHBC Show-Biz, Show Calendar Listings 66 Membership Directory 70 Membership Application 72
Just a few of the great articles you will see in the next issue of Bottles and Extras!
Reno Expo Feature Article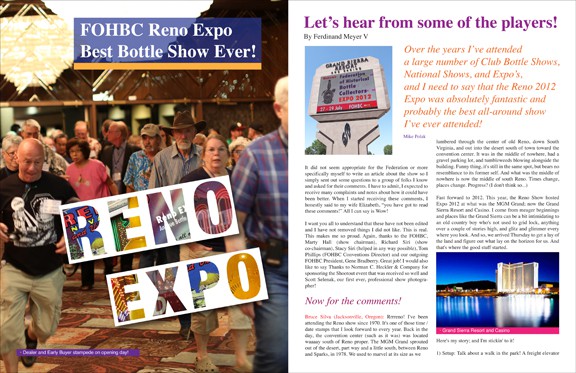 The FOHBC Banquet Article
Displays and Displayers Article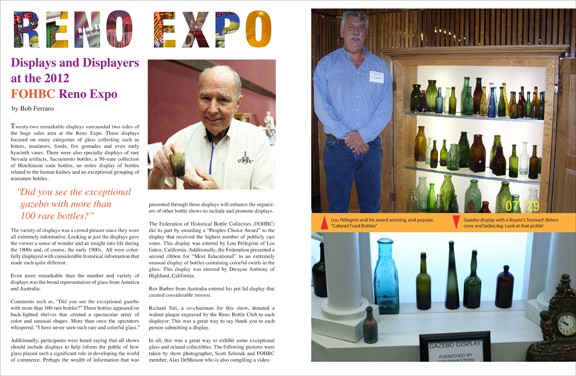 Shootout Article
Reno by Rail or Bust Article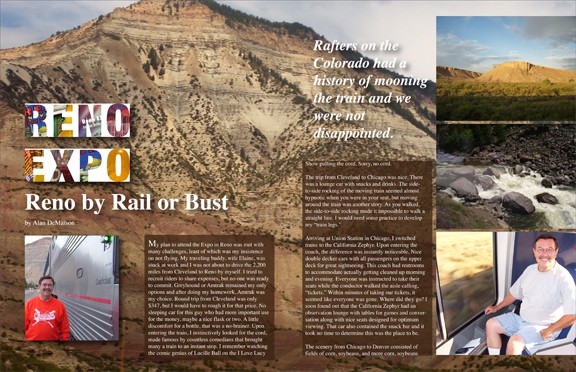 The California Perfume Company – Part 1