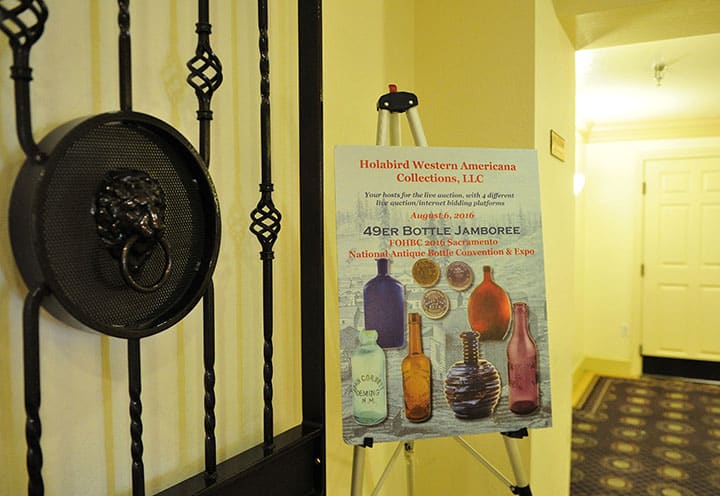 FOHBC 2016 Sacramento National Antique Bottle Convention & Expo |

49er Bottle Jamboree Auction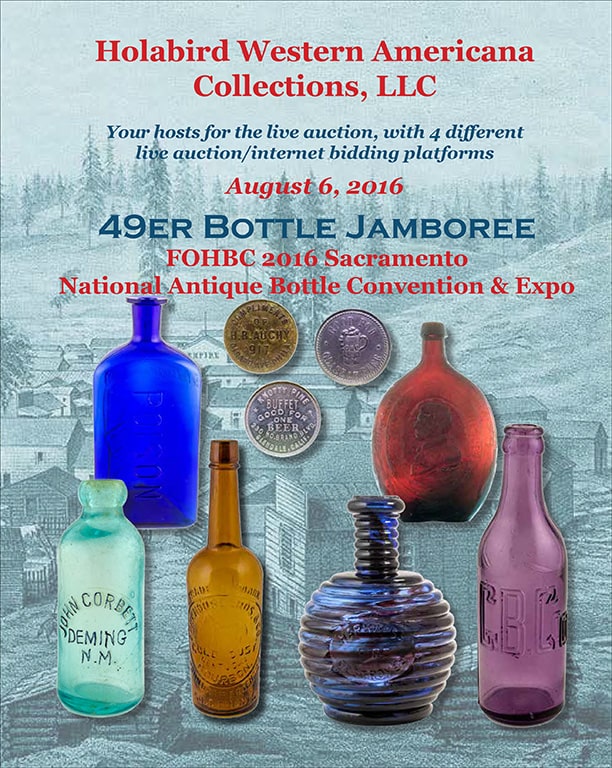 VISIT AUCTION (Lot Selling Prices)
49er Bottle Jamboree 
Auction Preview | Lions Gate Hotel Ballroom, Saturday, August 6th, 5:30 – 7:00 pm
Review all lots early, before you place your bids, for the 2016 Federation auction in the Lions Gate Hotel Club Ballroom.
49er Bottle Jamboree Auction | Lions Gate Hotel Ballroom, Saturday, August 6th, 7:00 pm – 10:00 pm*
A live FOHBC auction will be conducted at the Lions Gate Hotel at the Club Ballroom. Online bidding will occur prior to the event. A catalog of lots will be published and distributed.
All photographs are by our official show photographer, Angelina (Gina) Pellegrini unless otherwise noted.
Day 3 | Saturday
NEARLY 200 LOTS OF RARE, HIGHLY COLLECTIBLE WESTERN BOTTLES WILL BE SOLD AT HOLABIRD WESTERN AMERICANA'S 49er BOTTLE JAMBOREE, AUG. 6th
The event will coincide with the Federation of Historical Bottle Collectors' (FOHBC) Sacramento National Antique Convention & Expo.
SACRAMENTO, Calif. – Rare Western bottles will take center stage at the annual auction of the Federation of Historical Bottle Collectors, scheduled for Saturday, August 6th, at the Lion's Gate Hotel in Sacramento. The event will be part of 49er Bottle Jamboree and will coincide with the FOHBC 2016 Sacramento National Antique Bottle Convention & Expo, slated for August 4-7 at the same venue.
"This year we're doing something different by presenting a wide variety of bottles and related pieces that help define Western collecting," said Fred Holabird, president of Holabird Western Americana, based in Reno, Nevada, the firm conducting the auction. "We solicited bottles that are an iconic representation of the genre from different areas – and in the West, that isn't easy."
In all, 193 lots will come up for bid, the vast majority of them from the Western United States. These will include 60 whiskeys (featuring the two expected top lots in the sale), 50 sodas (to include many rarities), 45 medicines (featuring rare colored examples and some fantastic Owl bottles), five bitters and ten miscellaneous bottles (to include a cobalt blue grenade and inks).
"Bottles from some of the Western states are so rare that it's difficult to find collectors who want to part with their gems, and we can't blame them," Mr. Holabird said, "but somehow, some of the most cherished pieces imaginable have found their way into this auction. Some are literally unknown to the bottle collecting world. Some are from non-collectors. Most are great rarities."
The two whiskeys expected to do well include a green Thomas Taylor & Importers (Virginia City, Nev.) fifth, one of only two examples known and one of the earliest embossed cylinder Western whiskey bottles. It dates to around 1865-1870 and is being offered at auction exactly as it was discovered in the early 1970s in Reno. The bottle is estimated to realize $15,000-$25,000.
The other is an early yellow-green Gold Dust Whiskey (San Francisco, Calif.), circa 1871-1874, one of only eight known and literally flawless – 100 on a scale of 1-100, having never been in the ground nor mishandled (the original cork is still in place). This relic from the California Gold Rush, one of the oldest of the Western embossed whiskey bottles, should bring $10,000-$20,000.
One bottle from the miscellaneous category expected to generate much excitement is a Harkness "Fire Destroyer" grenade bottle (or ribbed glass bottle form hand fire grenade). The 6 ½ inch tall bottle, possibly the finest one known, is a deep cobalt blue in color, with red puce bands running through the glass. It has no chips, cracks or scratches and is expected to garner $5,000-$8,000.
The expected top lot of the sodas category is a W & B Shasta (Shasta, Calif.) Superior Mineral Water bottle, deep cobalt blue, with a fluted base and applied top. It is one of maybe a half-dozen or fewer Shasta bottles known, as the company only existed from around 1855-1860. As a result, it is regarded as one of the all-time great ghost town bottles and should finish at $9,000-$12,000.
Other sodas of note include a Pollard Soda (Las Vegas, Nev.) crown top bottle, circa 1905-1909, one of two known and the only embossed bottle of any kind to come out of Las Vegas during that time period (est. $3,000-$6,000); and a classic American Hutchinson's style G. W. Tallman (Telluride, Colo.) soda bottle, medium aqua in color and produced circa 1900 (est. $300-$500).
The crown jewel of the medicines category should be the choice set of eleven triangular cobalt blue Owl Poison bottles, being offered as one lot with an estimate of $1,500-$3,000. The group includes the standard rounded corner variety and at least two examples of the earlier sharp angle cornered Owls. The bottles range from 2.4 inches to 9.75 inches and make an instant collection.
A single offering from the Owl Pharmacy (Seven Troughs, Nev.) will come in the form of a 16-ounce drug bottle from around 1909, one of only two known and the only one of the two in completely original condition (est. $1,000-$2,000). Also sold will be a Stewart Drug (Bodie, Calif.) bottle, 6 inches tall and sparkling mint in color, a classic Penn Oval (est. $500-$1,500).
The expected top earner from the beer group isn't a bottle at all but a Reno Brewing Company tin sign, made circa 1900 and measuring 26 inches by 33 inches, housed in a reverse wood frame (as original). The colors of this classic Nevada beer sign are quite bright, considering its age. The graphics depict Reno Brewing with Sierra Lager advertising. It is estimated at $7,500-$15,000.
A Royal Beer (Reno, Nev.) cone-top beer can, a true relic of Reno's glory days as a gambling mecca, with a vignette of the royal flush poker hand, one of the great American beer can rarities, should fetch $1,000-$3,000; and a choice green Victoria Brewing Company (Victoria, British Columbia) quart-size beer bottle, with "Not to Be Sold" on the reverse, should make $300-$500.
Two beer bottles show identical estimates of $1,000-$2,000 each. One is a C. Thomas (Truckee, Calif.) half-pint amber beer bottle with a tooled top and the original cork. It dates to around 1900 and is one of only a few known specimens. The other is a Bay Brewing Co. (Seattle, Wash.) pint-size beer bottle, bright green with an applied top and "Not to Be Sold" showing on the back side.
Lest the ink bottle collectors of the world feel neglected, the sale will feature one of the first, if not the first, Chas. M. Higgins & Co. (New York) 16-ounce ink bottle from around 1885, with the original paper label in a recessed band in the center, 3 inches in diameter. The company was founded in 1880. This bottle has no chips, scratches or discoloration and should hit $200-$500.
Hours of the auction will be 7:00 to 10:30 pm Pacific Coast time, with previews Friday and Saturday, Aug. 5-6 from10 am to 5 pm. For those unable to attend in person, internet bidding will be available through the platforms iCollector.com, Invaluable.com (with AuctionZip.com and eBayLive.com) and AuctionMobility.com. Telephone and absentee bids will also be taken.
This year's auction is a collaborative effort, with valuable assistance from a number of major FOHBC players. These include Ferdinand Meyer V, the president of FOHBC; Richard Siri, FOHBC Sacramento National Chairman; Jeff Wichmann of American Bottle Auctions; Mike Polak, author of the Antique Trader Bottles Identification and Price Guide.
Holabird Western Americana is always seeking quality bottle and advertising consignments for future auctions. To consign a single piece or an entire collection, you may call Fred Holabird at 775-851-1859 or 844-492-2766; or you can e-mail him at fredholabird@gmail.com. To learn more about Holabird Western Americana and the bottle auction planned for August 6th, please visit www.fhwac.com.
A special thanks to the following:
Fred Holabird
Brock Maylath (Business Manager, registered bidders)
Uwe Nikoley (Photographer and IT, on computer at auction)
Joe Elcano (Consignment Manager, describer and auctioneer). Joe auctioned when Fred Holabird lost his voice from a cold.
Katrina Lasko (Layout artist and art expert, describer)
Brett Allen (describer, on computer at auction) [summer student, Chemistry, Univ. Nevada, Reno]
Terry Robinson (also filmed the auction for Netflicks TV)
Read about Day 1 events: FOHBC Board meeting, American Bottle Auctions Open House, Early Registration, Generals House VIP Reception and the Sacramento Shootout.
Read about Day 2 events: FOHBC Membership Meeting Breakfast, Educational Seminars, Ribbon Cutting Ceremony and the FOHBC Banquet.
T H E   P R E V I E W
T H E   A U C T I O N