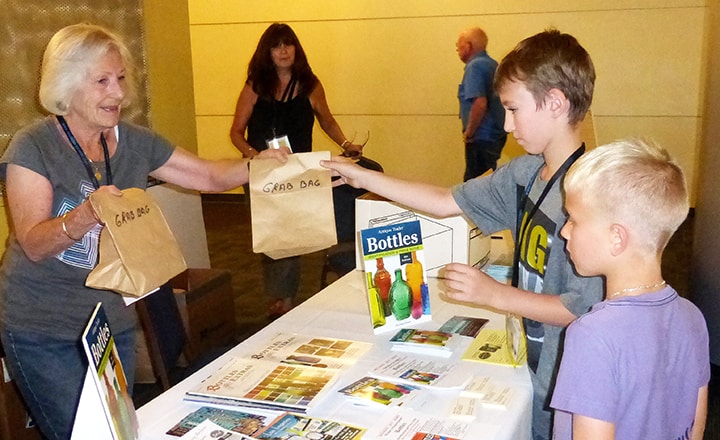 FOHBC 2016 Sacramento National Antique Bottle Convention & Expo | 

Children's Grab Bags
Children: Children's Bottle Grab Bags are available at the front FOHBC tables on Friday, Saturday & Sunday during Early & General Admission hours, McClellan Conference Center.
All photographs are by our official show photographer, Angelina (Gina) Pellegrini unless otherwise noted.
Children's Grab Bags
Richard and Bev Siri (Sacramento National Co-chairs) prepared 44 children's grab bags, each filled with two or in most cases three newspaper wrapped bottles from Richard's collection. There were some definite goodies in those bags. Lets look at a few of our pictures. It sure is nice seeing the looks of curiosity and surprise on these future antique bottle collectors. Thank you to Isabella Alucema for helping with the children. Pictured below is Bella with an amber flask.
Read about Day 1 events: FOHBC Board meeting, American Bottle Auctions Open House, Early Registration, Generals House VIP Reception and the Sacramento Shootout.
Read about Day 2 events: FOHBC Membership Meeting Breakfast, Educational Seminars, Ribbon Cutting Ceremony and the FOHBC Banquet.
Read about Day 2 events: 49er Bottle Jamboree Auction