2019 FOHBC 50th Anniversary National Antique Bottle Convention | Augusta, Georgia |

FOHBC Banquet
Marriott Convention Center Hotel | Oglethorpe Ballroom
Friday, 02 August 2019 | 5:30 pm – 8:30 pm
10 September 2019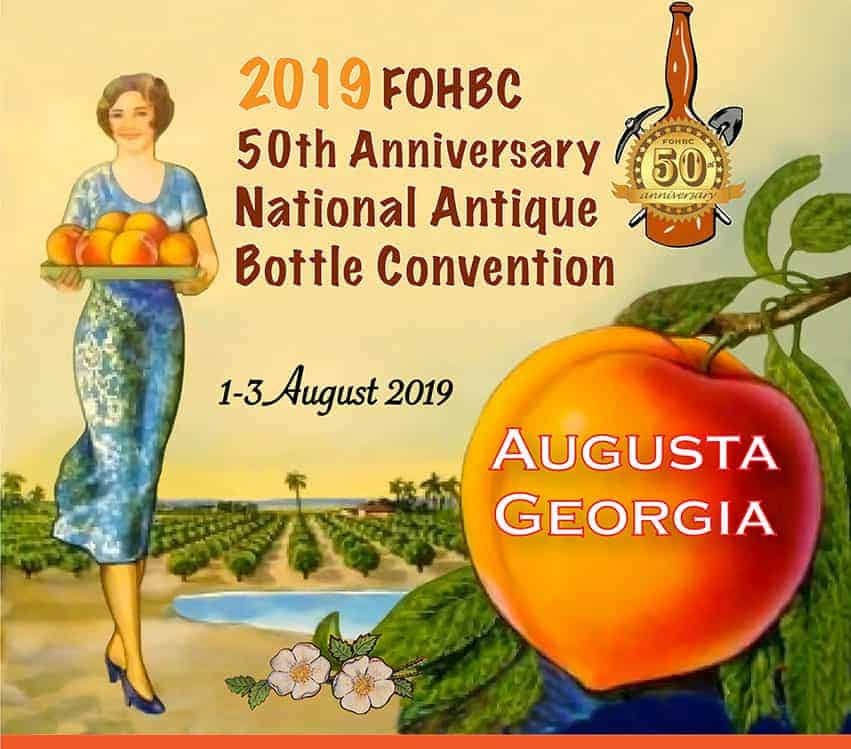 Each FOHBC national event has a banquet that is preceded by a cocktail hour. What is so nice about these dinners is that it is a chance to unwind after a long day that typically includes the Membership Breakfast, Educational Seminars, Ribbon Cutting and Early Admission.
The previous day consisted of the FOHBC Board Meeting, Mike & Julie Newman Open House, Augusta Museum of History Reception and Sweet Georgia Peaches Bottle Competition. Whew, did this already happen! So yes, a cocktail party and dinner to unwind with your bottle friends as the General Admission and last convention day would start early the next morning. The evenings lineup certainly did entertain.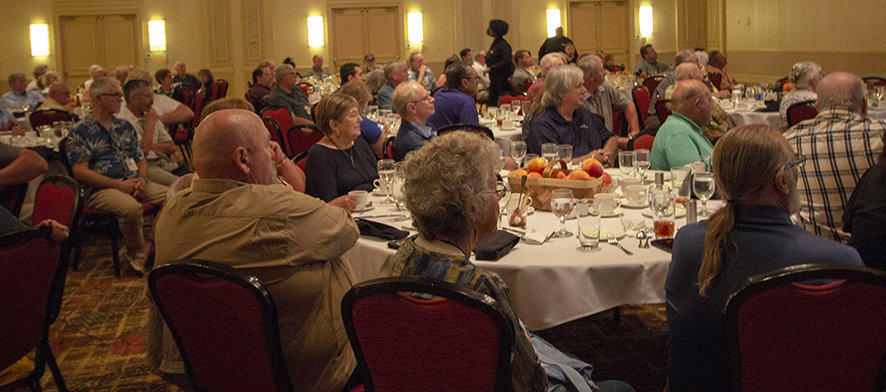 Organizing the cocktail party and banquet dinner usually resides with the Conventions Director and local team, in this case Team Augusta. Ferdinand Meyer V was responsible for room layout, operations and acted as the Marriott liaison. Marty Vollmer and Eric Warren were responsible for meals and tickets, Elizabeth Meyer was responsible for the dinner theme and table centerpieces, Bill Baab for the keynote banquet speaker, Val Berry was responsible for club awards, and Matt and Elizabeth Lacy were responsible for the agenda. See Agenda. Matt as President, would emcee the dinner. His wife, Elizabeth would run the audio visual presentation and photo document the dinner. Isabella Alucema would act as the stage hostess. That's quite a group effort. Of course there were others that helped out too.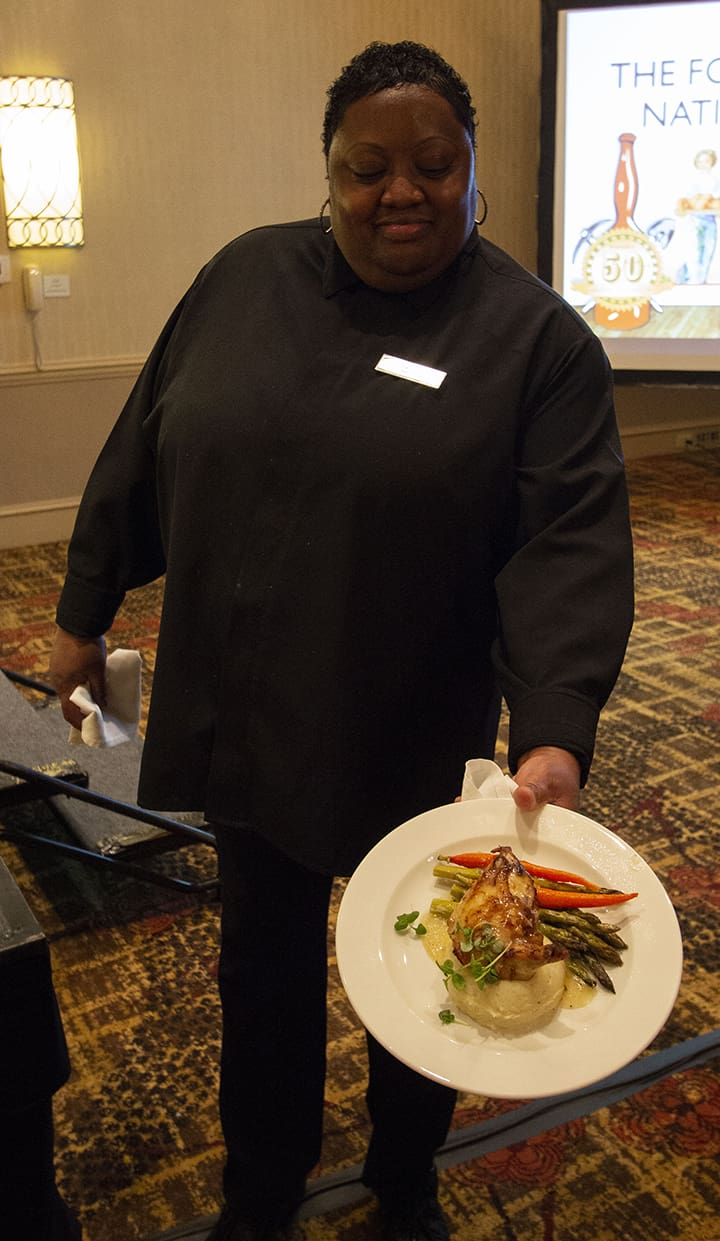 The meal this year consisted of a Caprese Salad and main course options such as Smoked Beef Brisket, Herb Roasted Chicken Breast or for vegetarians, Polenta Corn Cake with grilled vegetables. All served with mashed potatoes and chef's choice of vegetables. A cheesecake dessert was preset on the table. Of course there was tea, coffee, water, rolls etc. A cash bar was set up in the prefunction area where the cocktail party occurred from 5:30 pm to 6:30 pm. Tickets were $33.oo +, meaning around $45 by the time all the service charges are added in. You're paying for the meal of course, but you also have the ballroom, the service which was excellent, and amenities such as audio visual, stage set-up etc.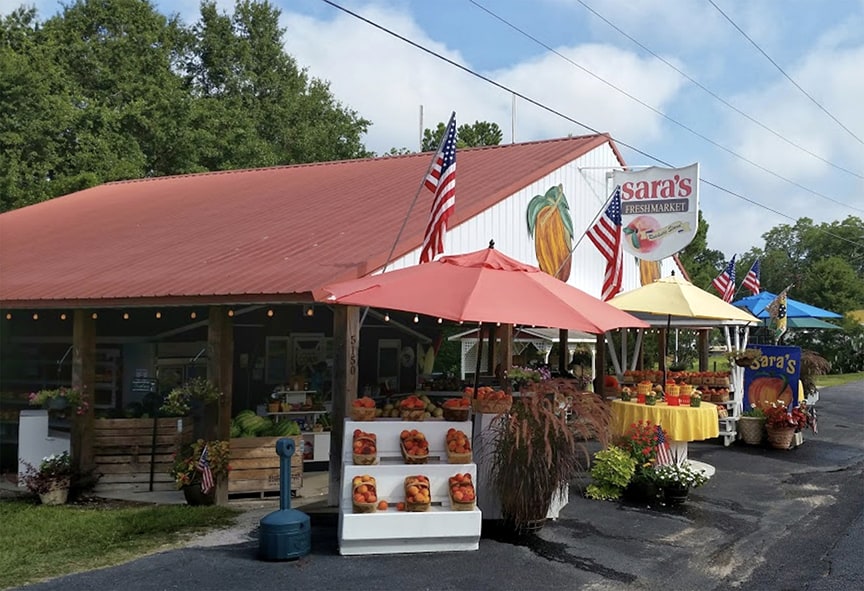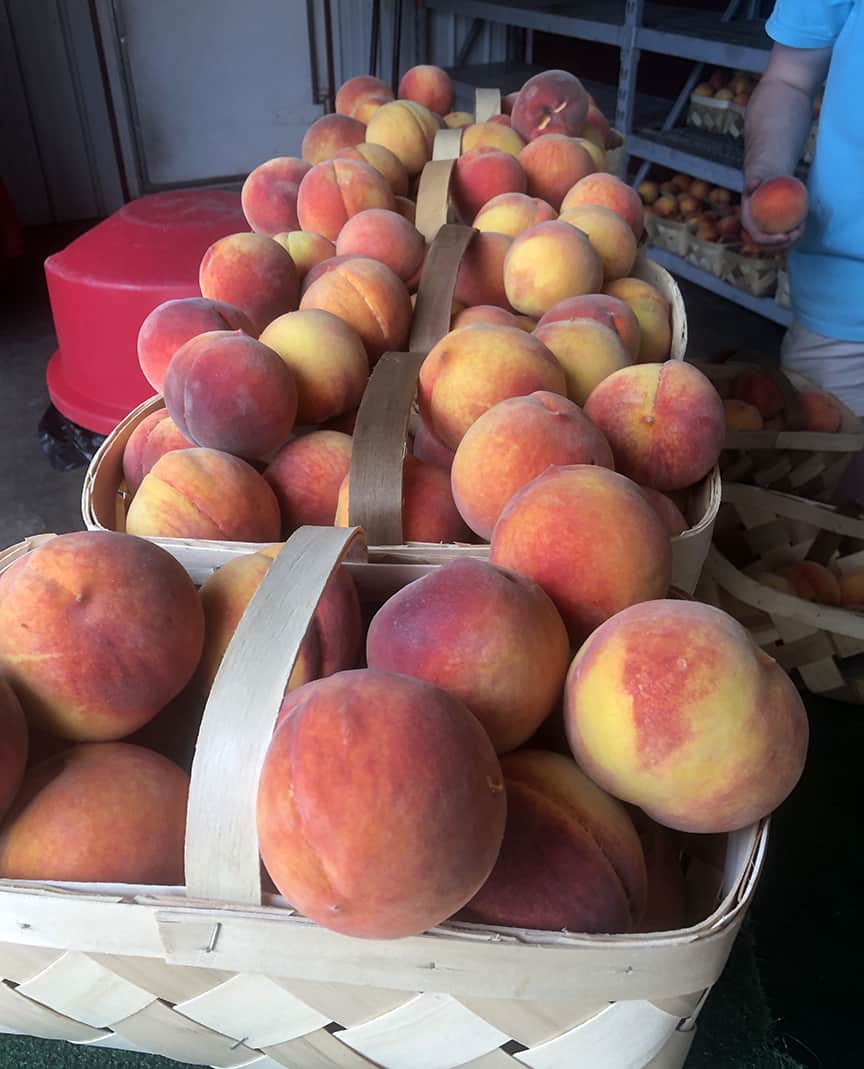 Elizabeth Meyer, prior to arriving in Augusta, went out to an antique shop or two and bough a mix-and-match assortment of antique bowls for the centerpieces. Once they arrived in town, she and Ferdinand went to the rather well-know Sara's Fresh Market peach stand in South Carolina and bought thirteen baskets of large handpicked fresh peaches. Yes, we said South Carolina and not Georgia peaches. A sticker pre-hidden beneath each banquet table, on one chair only, allowed the winner which was announced at the end of the banquet to take home the bowl and basket of peaches. Just a little something extra.
We attended the Banquet. The food was very good, and the speaker Justin Guy was out of this world, very entertaining.

Jeff & Joseph Scharnowske – Owosso, Michigan

The talk that Justin Guy gave on Edgefield County pottery was not long and drawn out. He added many facts to an entertaining way of speaking. Everyone there seemed to really enjoy it. I was also very happy to see the FOHBC give Sheldon Baugh a special award for service to the hobby. Sheldon is a great friend and a true gentlemen. The hobby is lucky to have him.

Jim Bender – Sprakers, New York
Bill Baab suggested that master potter Justin Guy be our keynote speaker. Justin was born and reared in Edgefield County, South Carolina in the Trenton area and has worked in clay for over twenty years. He grew up living only a short distance from where Dave and other potters made their wares for over a century. His talk was great as we received many favorable comments. His wife Tonya joined him on stage as she works in decorating his pots. She also ran the slide show. A very impressive couple.
Tonya just reminded me of the greatest compliment we could possibly receive, which was that several collectors mentioned that we converted them from being exclusively glass collectors before the show to enjoying and collecting southern pottery afterwards. I can assure you that was music to my ears!

Justin & Tonya Guy – Edgefield, South, Carolina
Along with the typical club awards, Bill Baab received the President's Award and Sheldon Baugh received the first ever, Lifetime Achievement Award. That moment was really special. Sheldon also gave the invocation prayer to start the banquet. See this years award list.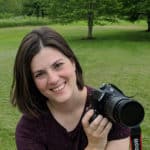 We thought we would share a few pictures taken by our event photographer, Elizabeth Lacy who is also our Public Relations officer. We think she did a great job!
Read more about the 2019 FOHBC 50th Anniversary National Antique Bottle Convention in Augusta, Georgia
FOHBC Board Meeting • Mike & Julie Newman Open House • Augusta Museum of History Reception • Sweet Georgia Peaches Bottle Competition • Membership Breakfast • Educational Seminars • Ribbon Cutting • Youth Corner • On the Tables • Augusta Educational Displays • People on the Showroom Floor • Augusta Prizes and Drawings • Augusta Souvenir Program.
Friends and Table Groupings
We'll try to caption as many photos as possible. Please send any corrections or missing names to fmeyer@fmgdesign.com so we can update the pictures. Thanks!
Justin and Tonya Guy
The Awards