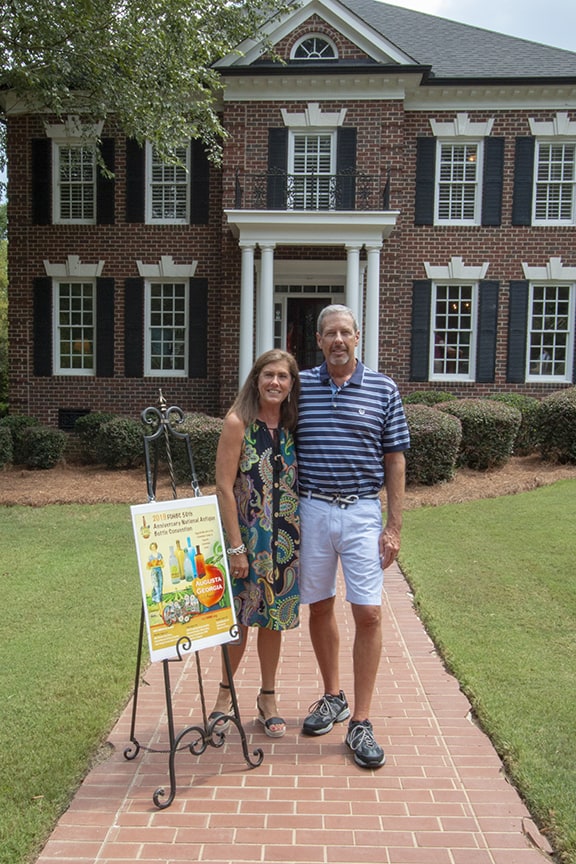 2019 FOHBC 50th Anniversary National Antique Bottle 
Convention | Augusta, Georgia |

Newman Open House
Mike & Julie Newman Residence – Martinez, Georgia
Thursday, 01 August 2019 | Noon to 3:00 pm
06 September 2019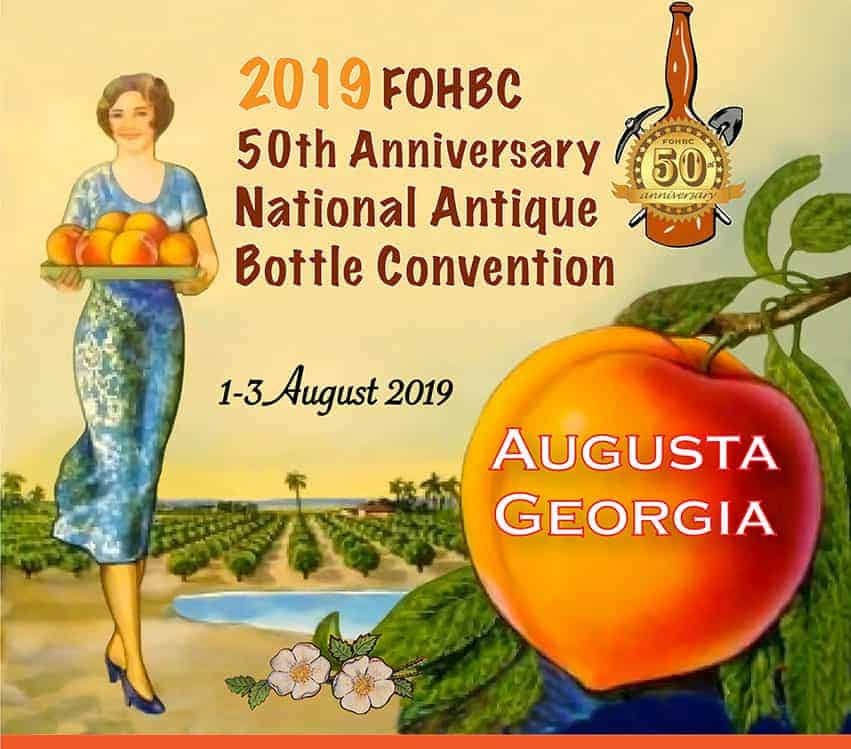 The widely and wildly anticipated Mike & Julie Newman Open House occurred after the FOHBC Board Meeting. This was our lead-off event and boy was it a success! Guests were given directions to car pool or they could be shuttled by two (2) contracted vans that ran between our host Marriott Augusta Hotel and the Newman residence. A pair of the Newman's retired friends, Tom McLaughlin and Roger Wexler, agreed to operate two 15-passenger vans. The entire event was sponsored or donated by the Newman's and their friends which is quite amazing.
Mike at some times was concerned that too few would come, then too many, and by the end of the day, when all was said and done, we estimated that over 200 antique bottle and glass collectors wear able to make the event. We had guess-timated 75 to 100 attendees! The reception was outstanding and the comments that we are hearing, prove that the event was a smash hit. An event that will certainly be remembered for many years to come.
The kickoff reception at Mike Newman's house was just awesome. Great meeting Mike and his wife for the first time and seeing other friends in the bottle hobby. And what can I say about the collection – outstanding!

Jeff & Joseph Scharnowske – Owosso, Michigan
With the open house occurring near meal time, Mike and Julie wanted to make sure that guests were treated to some good southern hospitality. They provided the entire crowd with Southern Bar-B-Que Pulled Pork Sliders, Charleston Shrimp, peeled with cocktail sauce, Pimento Cheese spread with crackers, Master Style Spinach Dip with Fritos and mini creampuffs and eclairs. The drink menu consisted of iced tea, Augusta "Sunshine Tea" (half tea, half lemonade), sodas, bottled water, bourbon, beer, wine etc. Mike's sister, Nancy Ginn, actually prepared the legendary "Green Jacket" salad and helped with serving. Mike's nephew Parker Ginn served as the bartender. Three of Julie's retired teacher friends assisted with serving. Jamie Westendorff, from Charleston, South Carolina, brought the Charleston shrimp and pimento cheese spread. This was one solid operation spearheaded by the Newman's. We are ever so grateful.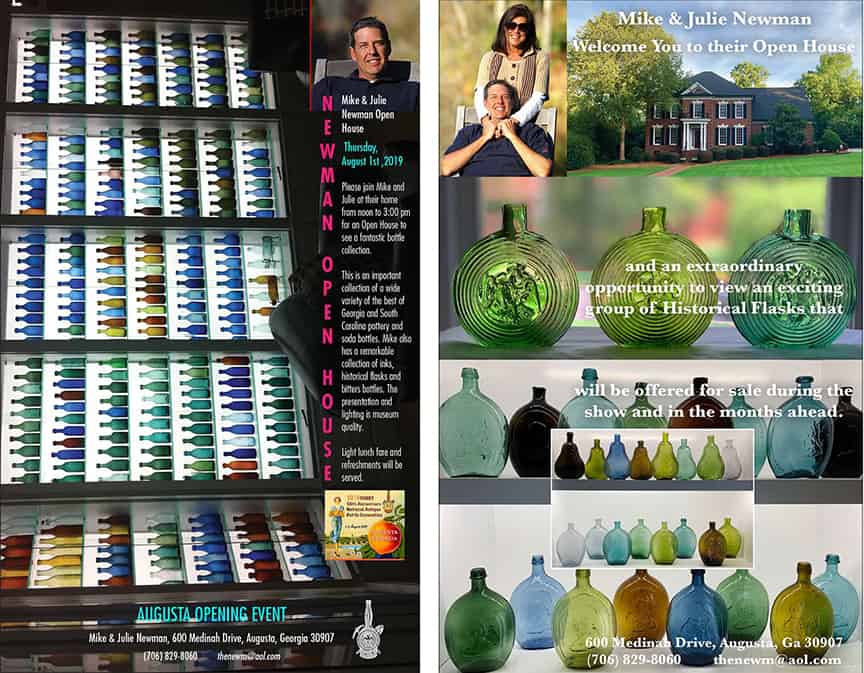 Each room in the Newman house was treated like a museum where you could see the Newman Collection which consists of regional bottles, sodas, historical flasks, bitters, inks, poisons, stoneware and just about anything you can imagine. Mike and Julie further supplemented the event with crude black glass bottles from the late Tommy Mitchener collection. Most were excavated by Tommy during the 1970s and 1980s in Savannah, Georgia from privies and outhouses. The Newman dining room was set up with killer Edgefield, South Carolina stoneware from the Philip and Corbett Toussaint collection. Another room was set up with Mike's collection of pottery soda crocks from Georgia and South Carolina, another with black seal bottles. On and on, every room and flat surface had something historically great to look at.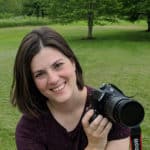 We thought we would share a few pictures taken by our event photographer, Elizabeth Lacy who is also our Public Relations officer.
Read more about the 2019 FOHBC 50th Anniversary National Antique Bottle Convention in Augusta, Georgia
FOHBC Board Meeting • Augusta Museum of History Reception • Sweet Georgia Peaches Bottle Competition • Membership Breakfast • Educational Seminars • Ribbon Cutting • Banquet • Youth Corner • On the Tables • Augusta Educational Displays • People on the Showroom Floor • Augusta Prizes and Drawings • Augusta Souvenir Program.
We also had two or three television stations that visited the Newman's during the event. This added to the excitement as Mike and Julie were interviewed. We had the best newspaper and television coverage possible. You can see the FOX54 report here:
Historical bottle collectors from across the country gather in Augusta for convention