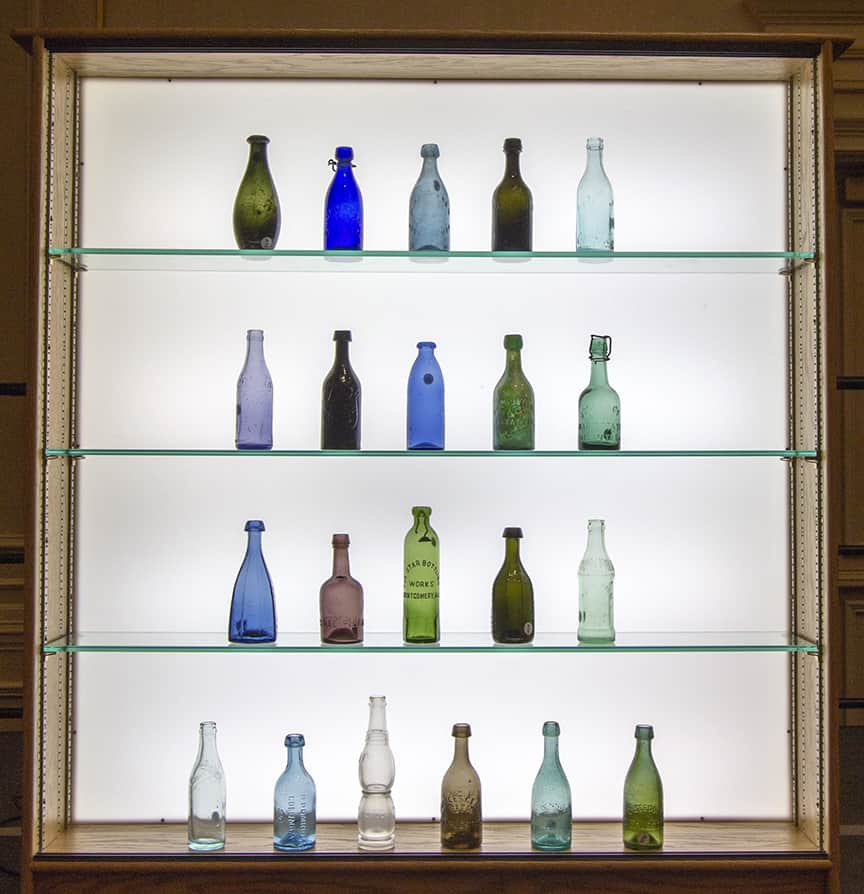 2019 FOHBC 50th Anniversary National Antique Bottle 
Convention | Augusta, Georgia |

Sweet Georgia Peaches Bottle Competition
Thursday, 01 August 2019 | 7:00 to 10:00 pm | Augusta Marriott Lamar Ballroom
07 September 2019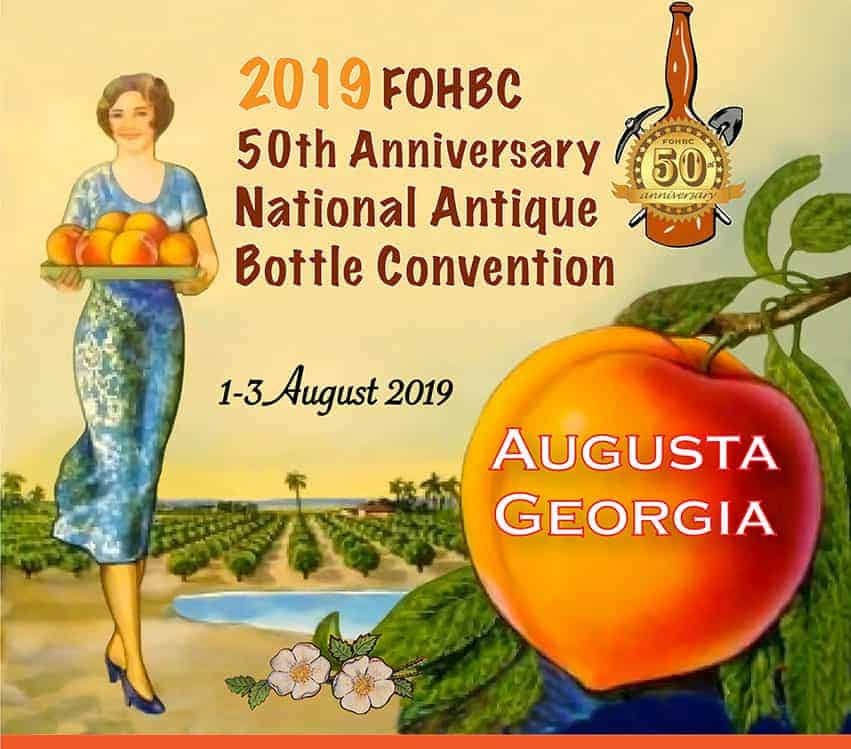 Our power opening day already started out with the 8:00 am- noon FOHBC Board Meeting followed by the early afternoon Mike & Julie Newman Open House. We spent our late afternoon at the Augusta Museum of History Reception. This left the evening for our next event.
It seems like bottle competitions, also known in some circles as 'shootouts,' originated out west. Maybe it is because of the stereotype western. I heard some say it started in the northeast where competitions at shows revolved around individuals trying to top another with a better bottle, on and on, one at a time, like playing a card game. It really doesn't matter because we decided to hold another competition in Augusta. We didn't like any reference to violence associated with guns so we decided to call our event the Sweet Georgia Peaches Bottle Competition.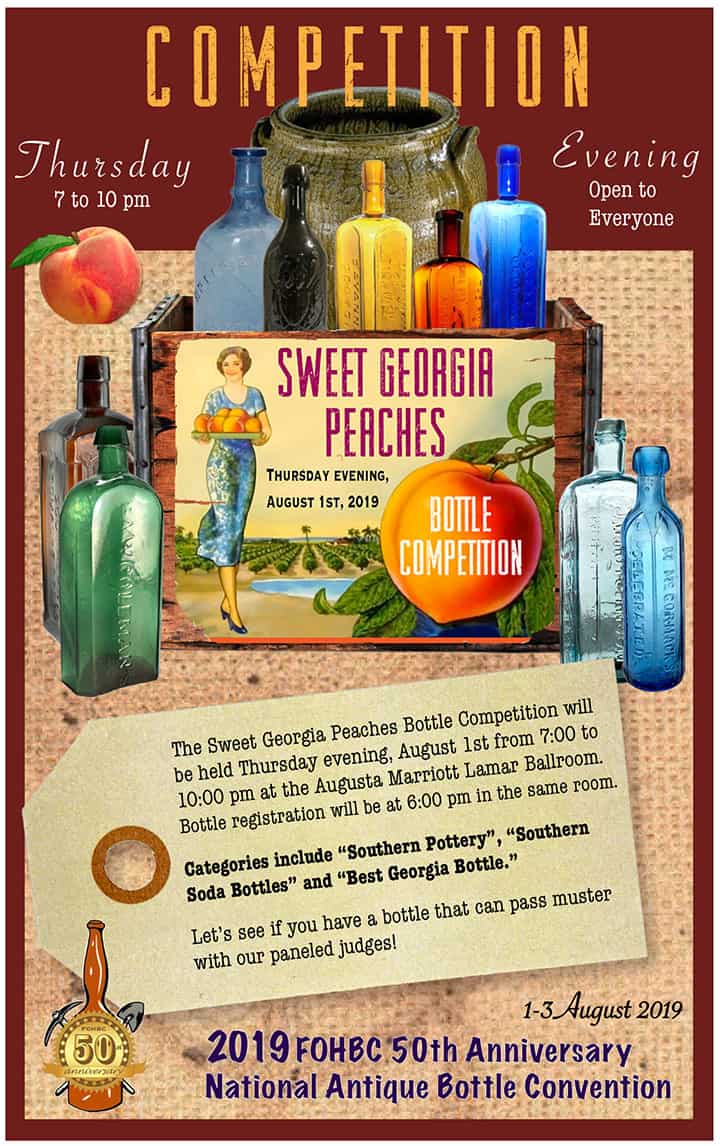 This event was held on Thursday evening, August 1st, 2019 from 7:00 to 10:00 pm in the Augusta Marriott Lamar Ballroom. The entrant registration was at 6:00 pm in the same room. You were asked to bring you contestant entry (maximum five) with the Application Form filled out for each. There were pre-selected paneled judges for each category.
We were extremely pleased to have Mike Newman as our host and coordinator for this epic event. Helping Mike was John Fifer who hails from Medina, Ohio. He is also our Midwestern Region Director.
The event consisted of three categories, with the competitions taking place in the following order: Best Southern Pottery (11 entries), Best Georgia Bottle (5 entries), and Best Southern Soda (22 entries). Each category was judged by three experienced and knowledgeable collectors. The resulting winners are shown in photographs below along with details of their winning entry.
Best Southern Pottery 
Best Georgia Bottle
Best Southern Soda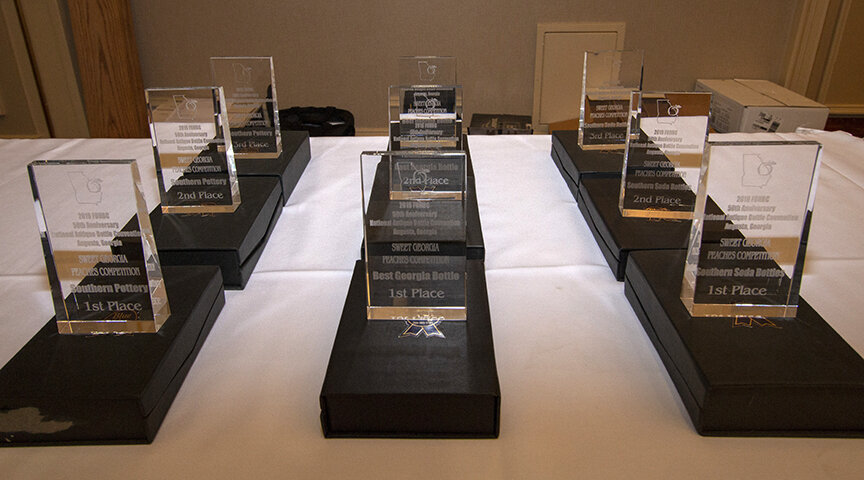 Excellent stoneware! Great Georgia bottles! Wide selection of entries for the Southern Soda contest. I felt privileged to be asked to judge with the likes of two icons like Bobby Hinely and Jamie Westendorff for the soda contest

Tom Lines – Indian Springs, Alabama

Chip Cable and Tom Masiarik, down from Pennsylvania, filmed and projected each contestant entry so the entire audience could see. They have done this before and we thank the pair.
John Pastor of Antique Bottle & Glass Collector, and American Glass Gallery donated the awards. We also thank John.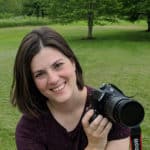 We thought we would share a few pictures taken by our event photographer, Elizabeth Lacy who is also our Public Relations officer.
Read more about the 2019 FOHBC 50th Anniversary National Antique Bottle Convention in Augusta, Georgia
FOHBC Board Meeting • Mike & Julie Newman Open House • Augusta Museum of History Reception • Membership Breakfast • Educational Seminars • Ribbon Cutting • Banquet • Youth Corner • On the Tables • Augusta Educational Displays • People on the Showroom Floor • Augusta Prizes and Drawings • Augusta Souvenir Program.
REGISTRATION
THE BALLROOM
BEST SOUTHERN POTTERY
[Judges: John Joiner, Vern Huffstetler and John Lafoy]
1st Place – John LaFoy from Greenville, South Carolina
Three Gallon Storage Jar, Silhouette of Buggy Driver on Obverse, Two Color Flower on Reverse, Attributed to Collin Rhodes, Edgefield, South Carolina District
2nd Place – Jay and Heli Shelley from Ridgeway, South Carolina
Four Gallon Jug, Exceptionally Drippy Glaze, Attributed to Stork/Landrum of Columbia, South Carolina Vicinity
3rd Place – Marty Vollmer from Lexington, South Carolina
One Gallon Decorated Jug, Attributed to Collin Rhodes, Edgefield, South Carolina District
BEST GEORGIA BOTTLE
[Judges: Jack Hewitt, Jimmy Bray and Butch Alley,
Tom Hicks serving as honorary judge]
1st Place – Jack Hewitt from Big Canoe, Georgia
Dr. G. Harral Druggist, Savannah, Georgia, Embossed in Applied Seal, Blackglass
2nd Place – Paul Chance from Savannah, Georgia
Charles Axt Catawba (Wine), Base Embossed Hock Wine
3rd Place – Mike Newman from Martinez, Georgia
Straight Sided Coca Cola Crowntop, Savannah, Georgia, Unique in True Yellow Color
BEST SOUTHERN SODA
[Judges: Bobby Hinely, Jamie Westendorf and Tom Lines]
1st Place – Jamie Westendorff from Charleston, South Carolina
Finley & Phin (Charleston, South Carolina), Teardrop Shape, Deep Olive Green
2nd Place – Mike Newman from Martinez, Georgia
John Ryan, XX Porter & Ale (Savannah, Georgia), Collared Top, Iron Pontil, Rich Rose Pink
3rd Place – Steve Holland from Springfield, Alabama
The Star Bottling Works, Montgomery, Alabama, Lime Green Hutchinson