2019 FOHBC 50th Anniversary National Antique Bottle Convention | Augusta, Georgia |

Youth Corner
Augusta Convention Center | Olmstead Hall
Saturday, 03 August 2019 | General Admission | All Day
09 September 2019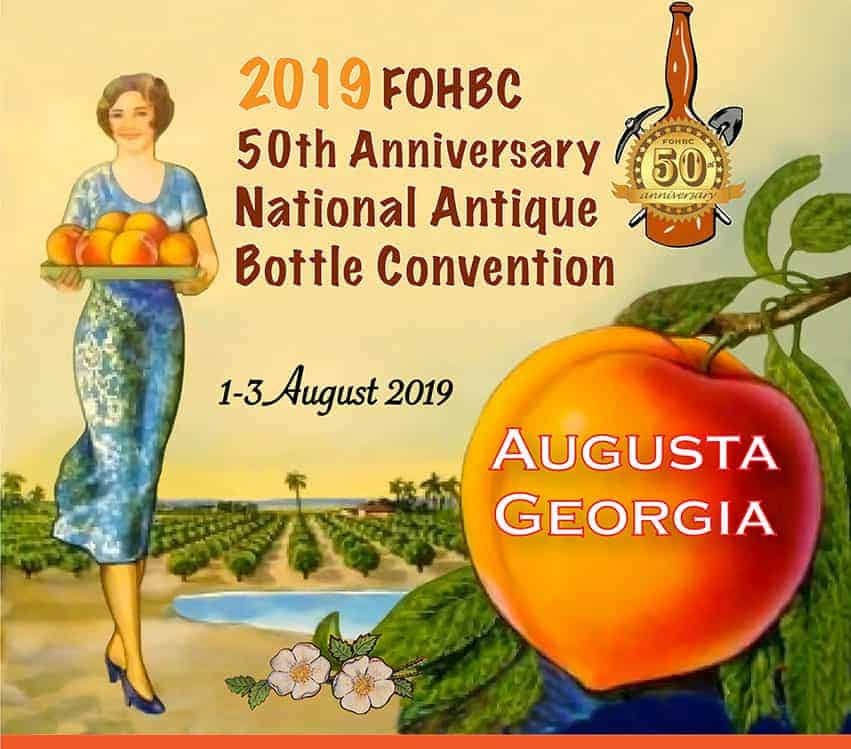 We struggle every year to bring younger people into our hobby. Usually we are unsuccessful as there are just so many competing interests facing the next generation. Where once a parent or grandparent would spend precious weekend time working with a child on a postage stamp album or looking through old coins for that elusive Indian Head penny, now video games seem to be the norm. Interaction with elders has been minimized as a virtual world is boundless. Of course there are many other reasons and we should not give up.

What we sorely need is a youth liaison to the Federation board, as us dinosaurs trod the same path to the watering hole, day after day…until, we all know what happens next.
One young girl that has been on Team Sacramento (2016), Team Springfield (2017), Team Cleveland (2018) and Team Augusta this year is Isabella Alucema. Most have met her and know she is the granddaughter of Elizabeth & Ferdinand Meyer. Bella loves her horses and is a serious competitor in Barrel Racing. She typically looks ahead each year and marks her calendar so she can attend the Federation national and not miss a horse event. This year she even flew back directly after the show for an event while her grandparents drove back to Houston.
Bella seems to be everywhere at our national conventions; on stage helping at banquets, running errands, gate checking members at breakfast meetings, at board meetings, at the front federation tables and of course, helping out with the kids. This year she was officially our Youth Corner coordinator. We are grateful for her help and friendly disposition. Children warm and open up to her. She seems comfortable with adults. We need more of this. Thank you Bella.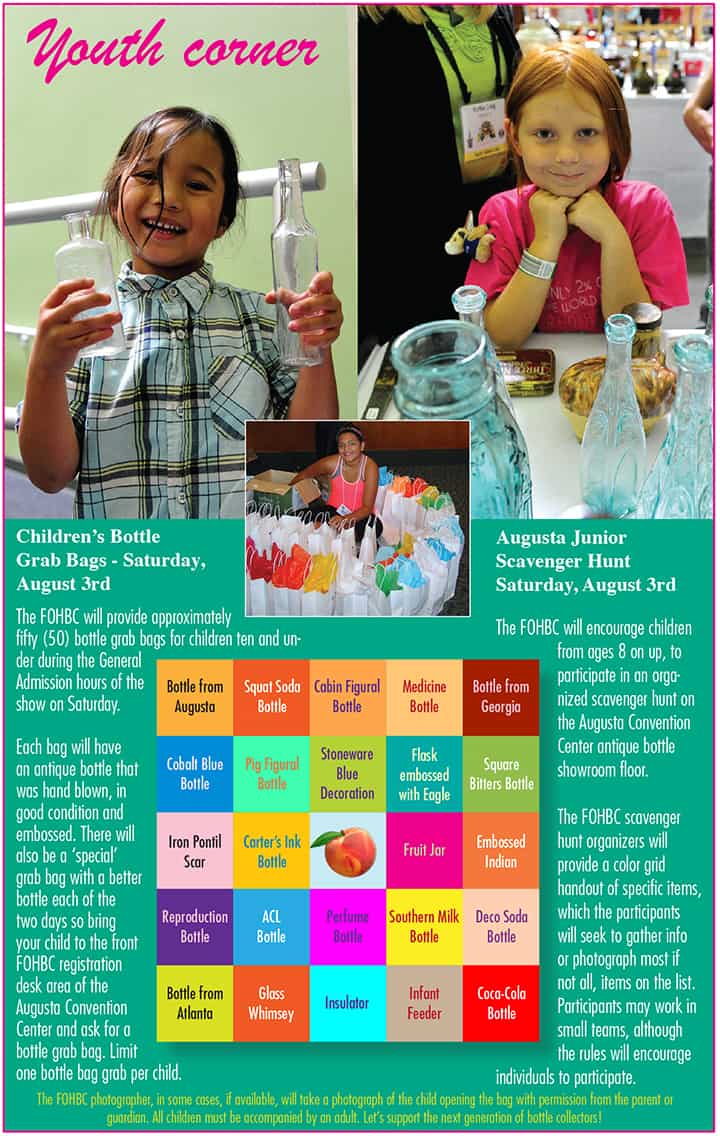 This year, we had two primary points to connect with our youth. We had Children's Bottle Grab Bags and for the second time, a Scavenger Hunt. Team Augusta provided approximately thirty-five bottle grab bags for children ten and under during the General Admission hours of the show on Saturday. Each bag had an antique bottle that was hand blown, in good condition and embossed.
The FOHBC also encouraged children from ages 8 on up to participate in an organized scavenger hunt at the on the showroom floor. The FOHBC scavenger hunt organizers prepared a list defining specific items, which the participants will seek to gather or complete all items on the list, usually without purchasing them. Participants may work in small teams, although the rules will encourage individuals to participate. The goal is to complete all or most of the items on the list. A small prize was given when the child turned in their card at the from desk.
I had the pleasure of meeting some fine young kids doing the scavenger hunt and taught them the different types of bottles.

Tom Pettit – Safety Harbor, Florida
Both events were very success. We had many dealers tell us that they enjoyed interacting with the children when they approached their table looking for a specific bottle.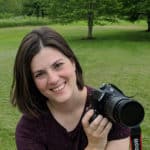 We thought we would share a few pictures taken by our event photographer, Elizabeth Lacy who is also our Public Relations officer. We think she did a great job!
Read more about the 2019 FOHBC 50th Anniversary National Antique Bottle Convention in Augusta, Georgia
FOHBC Board Meeting • Mike & Julie Newman Open House • Augusta Museum of History Reception • Sweet Georgia Peaches Bottle Competition • Membership Breakfast • Educational Seminars • Ribbon Cutting • Banquet • On the Tables • Augusta Educational Displays • People on the Showroom Floor • Augusta Prizes and Drawings • Augusta Souvenir Program.